2023 Research Excellence Award Recipient
This award is presented to members of APEGA who have conducted innovative research in engineering or geoscience that has been successfully applied to improve economic and social well-being.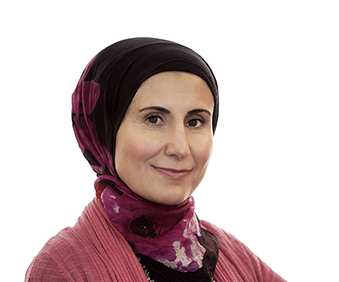 Professor of transportation engineering at the University of Calgary's Schulich School of Engineering, professional engineer Dr. Lina Kattan loves networks.
She beams while sharing how starlings fly together. Each keenly aware of the position of seven birds around them, their subtle micromovements closer and farther create a systematic, flocking dance in the sky: their own network. Traffic operates in a similar way, Dr. Kattan explains. In congested traffic, drivers shift vehicles based on the movements of others, creating tidal waves in the transportation system. "Because of these simple micro rules, you see emergence of this fascinating movement."
Her passion for these connections drives her research, through which she makes transportation and resource sharing in cities more efficient and equitable. She leverages technological advances and distinguishes user needs to build more sustainable, livable cities.
Dr. Kattan directs research concerning the connected, automated, shared, and electric vehicles of our future, including how they will revolutionize how we get from one place to another and their impact on traffic flow and on the entire transportation network.
"Automated vehicles will need a wireless network to function, may need to be connected to an electric network, and will have to communicate with each other and to person-driven transportation. You can think about it as a web, where vehicles talk to each other, to the infrastructure, and to devices."
She studies how these new technologies in this hyperconnected network can be leveraged to further advance traffic management and control. Her work has resulted in innovative traffic-control solutions, such as variable speed limits and ramp metering, and her solutions arbitrate between efficiency and fairness.
She marvels at the interconnected flow of goods and services—and us. "Networks fascinate me, and transportation. I feel like they're the blood vessels of our society. Everything we are surrounded by has been transported at some point in time."
Dr. Kattan believes professional engineers should focus on improving lives in a holistic and systematic way, and her work meets her mandate. "Networks are everywhere," she states, connecting the threads of data to build routes and connections that meet our future transportation and city-dwelling needs.
Awards and Distinctions
ASTechAward – Outstanding Achievement in Urban Development: Research, Technology Alberta (2022)
Killam Annual Professorship Award, University of Calgary (2022)
Discovery Accelerator Supplements Program, Natural Sciences and Engineering Research Council of Canada (2020; 2014)
GREAT Supervisor Award, Faculty of Graduate Studies, University of Calgary (2020; 2018)
Member, College of New Scholars, Artists and Scientists, Royal Society Canada (2019–present)
Peak Scholar, University of Calgary (2018)
Killam Emerging Research Leader Award, University of Calgary (2014)
Professional Affiliations and Activities
Member, Committee on Traffic Flow Theory and Characteristics, Transportation Research Board, Washington, D.C., United States (2022–present)
Canada Research Chair (Tier 1), Integrative Transportation Systems through Automation and Connectivity, Natural Sciences and Engineering Research Council (2021–present)
Member, Scientific Orientation Committee, Centre Interuniversitaire de Recherche sur les Réseaux D'entreprise, la Logistique et le Transport, Université Laval (2021–present)
Member-at-Large, College Council, Royal Society of Canada (2021–2023)
Scientist Mentor, Creative Destruction Lab (2021–present)
Director, Collaborative Research and Training Experience – Integrated Infrastructure for Sustainable Cities, Natural Sciences and Engineering Research Council (2018)
Member, APEGA (2008–present)
Urban Alliance Chair in Transportation Systems Optimization, University of Calgary (2008–present)