2023 Outstanding Mentor Award Recipient
This award is presented to members of APEGA in recognition of exceptional achievement as a mentor.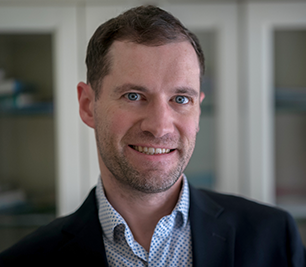 Professional engineer Jeff MacDonald and his twin brother were constantly on the move during their childhood, attending 14 different schools before university. They settled in Nova Scotia, Ontario, Manitoba, and New Brunswick, among other locales, becoming well-versed as the new kids in school. This cultivated a lasting appreciation for those who would reach out with a warm welcome and a helping hand while the two acclimatized to their new surroundings.
MacDonald credits this experience as what drives him to greet newcomers to the engineering profession. "It became part of my skill set, or personality, to return the favour for others."
He uses this talent generously as a senior reservoir engineer at Shell Canada, where he mentors on the technical components of reservoir engineering, leadership, and communication. He's had formal mentoring relationships with more than 10 engineers and shares his technical knowledge enthusiastically with the global community by presenting at conferences around the world.
MacDonald's helpful personality drives his interpersonal interactions. He often cites a proverb to his mentees: "If you give a person a fish, you feed them for a day. If you teach a person to fish, you feed them for a lifetime." While fishing is a pastime he's only recently picked up, he's been teaching his mentees to proverbially fish for more than a decade.
A dedicated teacher, MacDonald often comes in early or stays late to be available for his mentees and provides them with time and space to learn. Part of his role in these relationships includes encouraging those he works with to expand their abilities, particularly in computer programming. This has led his mentees to design innovative products, such as automated methods for analyzing pressure and flow in wells and data-visualization systems for business planning.
Formalizing mentoring assignments at Shell Canada and constantly improving the organization's educational presentations, MacDonald still makes time for informal teaching. One of his mentees has described him as the single most influential individual in their technical development as a reservoir engineer, with much of the credit given to his ability to simplify and communicate complicated information. This is one of MacDonald's gifts: he breaks problems into smaller pieces, patiently awaiting a mentee's solution instead of quickly solving it himself.
MacDonald says the mentoring relationships he forms are mutually beneficial. "Seeing them grow and become mentors themselves is just amazing."
He's teaching others to fish so they can do the same for the generation that follows, passing along a wealth of knowledge and passion for their craft one line cast at a time.
Professional Affiliations and Activities
Member, Workshop Program Committee, Society of Petroleum Engineers Workshop: Subsurface Data Analytics (2019)
Member, APEGA (2011–present)