2023 Environment & Sustainability Award Recipient
This award is presented to members of APEGA who have demonstrated excellence in the application of engineering or geoscientific methods towards preservation of the environment and the practice of sustainable development.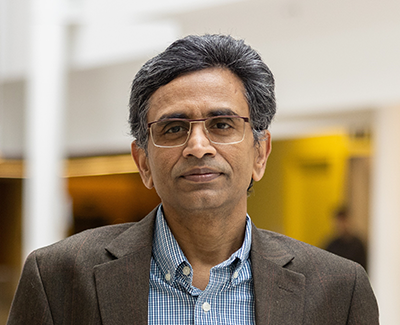 Professional engineer Dr. Quazi Hassan, a professor in the geomatics engineering department at the University of Calgary's Schulich School of Engineering, takes a philosophical approach to his work. Just as Sir Isaac Newton—whom he credits as his greatest philosophical influence—was informed by the natural world around him, Dr. Hassan is drawn to environmental data.
More than 350 years ago, Newton allegedly watched an apple drop to the ground and wondered why it didn't rise instead. Today, Dr. Hassan mirrors that curiosity as he delves deep into why natural disasters happen and what we can do to mitigate the harm they cause. He strives to understand how nature works and how we can increase the sustainability of our planet. "If we'd like to survive and to sustain humanity on the face of the Earth, we need to solve the environmental challenges."
Dr. Hassan began his career studying floods in Bangladesh. "Since then, I've fallen in love with natural disasters." He's studied them in one form or another in Malaysia, England, and now in Canada. It was his move to Alberta that set ablaze his interest in the most frequent local disaster: the forest fire. These voracious flames destroy homes, release deadly carbon dioxide, and cost millions of dollars to extinguish.
Noting an increased frequency and severity of forest fires, Dr. Hassan developed strategies and technologies for preventing, detecting, and mitigating their damage by analyzing satellite imagery, sensory technology, and historical data. His prediction systems pinpoint areas where fires might spread rapidly, enabling the swift deployment of firefighters to vulnerable areas.
These wildfire-monitoring systems increase public safety—tourists are redirected from at-risk areas and people living near forest fires can be evacuated quickly. Air quality is also monitored more efficiently, providing early warning to those with respiratory issues.
Through Dr. Hassan's data-driven policy recommendations and strategies for fire prevention, communities such as Fort McMurray and oil sands companies in high-risk locations are improving their responses to these infernos.
He explains that although we can't avoid natural disasters or control Mother Nature, we can minimize their impact by finding their causes, monitoring the environment, and properly preparing for them.
While he continues to study his environment, watching the proverbial apples fall—or sparks ignite in the forest—Dr. Hassan is saving the lives of Albertans one dataset at a time.
Awards and Distinctions
ASTech Award – Outstanding Achievement in Environmental Sustainability: Excellence in Forest Management Research Award, Technology Alberta (2022)
Bronze Medal Award, Canadian Remote Sensing Society (2012)
Professional Affiliations and Activities
Keynote Speaker, International Conference on Geographic Information and Remote Sensing Technology (2022)
Keynote Speaker, International Conference on Remote Sensing Technologies and Application (2021)
Keynote Speaker, International Conference on Geology, Mapping, and Remote Sensing (2020)
Associate Editor, Royal Society Open Science (2019–present)
Editorial Board Member, Remote Sensing (2016–present)
Editorial Board Member, Scientific Reports (2016–present)
Board Director, Canadian Risk and Hazards Network (2015–2016)
Member, APEGA (2009–present)