2017 Frank Spragins Technical Award Recipient
This award is presented to APEGA members recognized by their peers for their integrity, technical expertise, and outstanding accomplishments in fields relating to engineering or geoscience.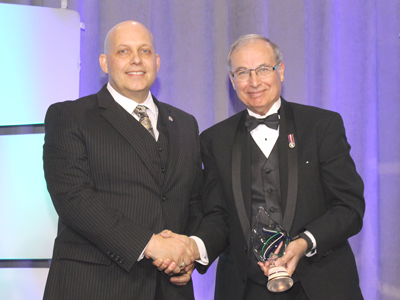 A Vice-President and Regional Leader for Stantec's Alberta North and Territories Region, Todd K. Simenson, P.Eng., has enjoyed a fruitful 30-year-career that has taken him from Saskatchewan to Yukon and, since 1999, Alberta.
He has dedicated his career to providing real-world infrastructure solutions that positively affect the communities he serves. A testament to his technical expertise, projects he has worked on have garnered multiple awards from various industry organizations, including the Consulting Engineers of Alberta, the Alberta Public Works Association, and the North American Society of Trenchless Technologies.

Most recently, Mr. Simenson led Stantec's wastewater and stormwater recovery efforts after disastrous wildfires in the Fort McMurray region. This work earned Stantec a 2017 Award of Excellence from the Consulting Engineers of Alberta. Mr. Simenson was also part of the team that designed the South Red Deer Regional Wastewater System, which was recognized with several awards, including the 2016 APEGA Summit Award for Project Achievement.

Other award-winning projects in Mr. Simenson's portfolio include the 88-kilometre Wandering River Regional Waterline, Alberta's first design-build regional waterline and the world's longest fusible PVC pipe installation. He also helped oversee the Regional Municipality of Wood Buffalo sanitary trunk project, which involved construction of two 900-millimetre, directionally drilled sewer mains under the Athabasca River, setting a Canadian, horizontal directional-drilling record for its size.

In 1993, he was elected President of Engineers Yukon, becoming the youngest ever head of a Canadian engineering regulator.

Mr. Simenson has co-authored technical papers and has presented at many national and international conferences. Throughout his career, he has also mentored numerous Professional Engineers at Stantec and other organizations, providing technical and professional guidance. Many of his mentees have gone on to leadership roles.

Dedicated to his community, Mr. Simenson supports many charities and frequently volunteers as a coach. His favorite role is playing Santa at community events throughout central Alberta.