2019 Early Accomplishment Award Recipient
This award is presented to APEGA members who are recognized by their peers for their integrity, expertise, and outstanding accomplishments in fields related to engineering or geoscience at an early stage in their professional career.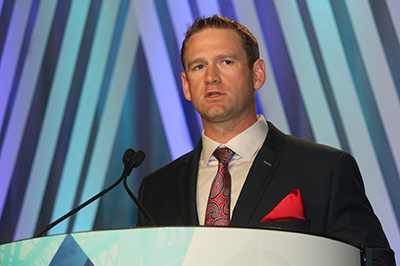 Jordan Johnsen, P.Eng., is a man with momentum. Growing up in the remote British Columbia town of Atlin, he rebuilt his first chainsaw motor when he was 11. By the time he was a teenager, he had progressed to working in his family's engine service business, learning not only to fix, but to improve the machines he worked on. He'd later refine these critical-thinking skills as a professional engineer
Mr. Johnsen graduated from the University of Calgary with a manufacturing engineering degree in 2006. Two years after trading classes for the corporate world, he accepted a position with a new start-up gas company, Seven Generations Energy. As the company grew, he quickly advanced up the career ladder—from production engineer to district engineering manager, to director of production and facility engineering—before reaching vice-president of operations and engineering. Within 13 short years, he evolved from eager student to the youngest executive of Canada's largest condensate producer.
During his time with Seven Generations Energy, Mr. Johnsen has played a large role in its burgeoning success. At a time when the economic downturn had all but stalled the rest of the energy industry, he oversaw departmental growth. As competitors closed their doors, Seven Generations Energy reported more than $7 billion in capital investment and quintupled production, providing thousands of additional jobs in a struggling industry.
With a strong commitment to his career and a record of professional success, Mr. Johnsen has solidified himself as a leader in the province's biggest industry