2023 Frank Spragins Technical Award Recipient
This award is presented to APEGA members recognized by their peers for their integrity, technical expertise, and outstanding accomplishments in fields relating to engineering or geoscience.
Ulrich (Rick) Hermann, P.Eng.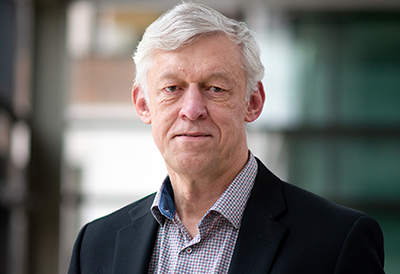 "There must be a better way of doing this," professional engineer Rick Hermann often muses. He combines his technical and construction-based knowledge and collaborates with researchers to turn over problems and find viable, novel solutions.
He's leveraged this skill set for more than 27 years as manager of construction engineering at PCL Construction. By automating many of the construction planning and logistics processes, Hermann is making the best use of time and resources for the company and the clients it serves.
Using technology to innovate and optimize parts of the construction process, he has increased the effectiveness of plans for heavy-object lifting and construction paths. He has also created a program that simulates module yard setups, shifting the process from manual spreadsheets that took hours to complete to computers that provide simulations in three minutes.
Additionally, he led PCL's engineering team in developing the patented Engineered Module Lift Frame, which reduces crane rigging time by up to 90 per cent—simplifying a time-consuming and risky part of the construction process. This system requires minutes of setup instead of an entire day, increasing safety for those completing the work.
Under Hermann's leadership, the same team developed the HeviLift program, which runs module lift scenarios and scans an industry-wide inventory of crane equipment to identify the best pairing for a project. This program has doubled crane production over the past decade and has lowered costs.
It's his curiosity and willingness to learn that drive Hermann to improve any process he encounters. Those traits landed him a position as an industry liaison with the University of Alberta construction engineering and management department. He has held this position since 1996, co-mentoring and writing research papers with more than 30 students. He has also co-authored more than 80 conference and journal papers, quite a feat for someone not in academia. The research topics ranged from historical data analysis using neural networks (computer systems fashioned after the human brain and nervous systems), to heavy-lift planning and automation, to construction-planning simulation. He also provides students with true-to-life case studies and challenges them to come up with optimal solutions.
"Your mind just opens up. I find it quite inspiring working with young people who have this very ideal view of the world and they're willing to tackle anything. On the other hand, you need to include practical experience and build something functional and productive."
Always driven to collaborate and optimize, if there's a better way of doing something, you can be sure Hermann will find it.
Awards and Distinctions
Best Practices Award in Construction Performance Leadership (as a member of PCL Industrial Management), Construction Owners Association of Alberta (2019)
Canada Patent Number 2798397 (co-inventor; patent assigned to PCL Industrial Management) for an adjustable module lift frame assembly (2017)
U.S. Patent Number 9399564 (inventor; patent assigned to PCL Industrial Management) for an adjustable module lift frame assembly (2016)
U.S. Patent Number 9463959 (co-inventor; patent assigned to PCL Industrial Management) for an adjustable module lift frame assembly (2016)
Excellence in Innovation Award (as a member of the construction engineering team for PCL Industrial Management's Engineered Module Lift Frame project), Canadian Construction Association (2012)
Professional Affiliations and Activities
Member, Hoisting Safety Society of Alberta (2017–present)
Member, American Society of Civil Engineers (2010–present)
Member, APEGA (1988–present)