2019 Women in Engineering and Geoscience Champion Award Recipient
This award is presented to an individual, team, or organization that supports women in engineering and geoscience with diversity initiatives and inspirational support.
Canadian Coalition of Women in Engineering, Science, Trades and Technology 2018 Conference Steering Committee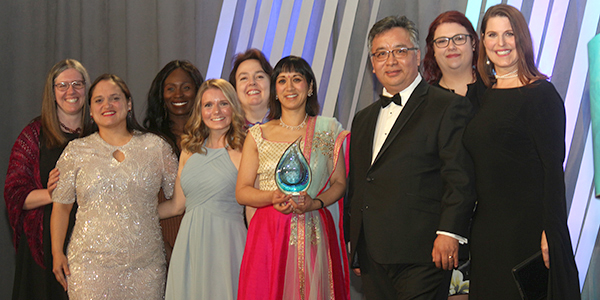 Established in 1987, the non-profit Canadian Coalition of Women in Engineering, Science, Trades and Technology (CCWESTT) is a strong advocate of diversity and inclusion. It empowers and supports women in science, engineering, trades, and technology (SETT), and encourages employers to follow suit within their organizations. Every two years, CCWESTT hosts a conference, organized by a volunteer host committee separate from the national board, to celebrate the contributions of women in SETT and to provide education, workshops, and networking opportunities.
Last year, the CCWESTT 2018 Conference Steering Committee compiled a list of 10 considerable conference goals—including increasing male attendance, actively engaging indigenous youth, and partnering with a broad range of industries representing SETT. The committee accomplished every objective. Through professional development opportunities, an interactive and productive policy forum, and an inspiring roster of keynote speakers, the committee delivered a conference that solidly increased the visibility of women in engineering and geoscience.
This three-day, national event brought together subject matter experts, employers, government representatives, and women in SETT to share their knowledge and experience around diversity and inclusion. Under the theme of Learn, Grow, Act, the conference provided a space to discuss emerging research, best practices, and practical solutions. A total of 65 diverse sessions, in six parallel streams, covered all areas of SETT. Topics included indigenous inclusivity, intersectionality and the LGBTQ2+ community, and negotiating for success and non-linear career paths.
With the outstanding success of the conference, the CCWESTT 2018 Conference Steering Committee raised the organization's profile nationally and reinforced its position as a tremendous ally of women in the professions.
The CCWESTT 2018 Conference Steering Committee consisted of:
Margaret-Ann Armour, CM, PhD
Lianne Lefsrud, P.Eng., PhD
Anjum Mullick, P.Eng.
Ingrid Pederson, P.Eng.
Claudia Villeneuve, P.Eng.
Kathleen Baker, E.I.T.
Madeleine Jensen-Fontaine, P.Chem.
Sarah Miles, G.I.T.
Evelyne Asiedu