Apply for a Permit to Practice

Who needs a Permit to Practice?
Any company that engages in the practice of engineering or geoscience in Alberta as part of its business must have an APEGA Permit to Practice and must be registered in the province under the Alberta Business Corporations Act.
Within Alberta, a sole practitioner is an individual who practises as an incorporated entity. A sole practitioner must hold an APEGA Permit to Practice.
Within Alberta, a sole proprietorship exists when an individual is the sole owner of a business and makes no legal distinction between the individual and the business (i.e., the business does not exist as a separate entity). A sole proprietor does not need a Permit to Practice since the sole proprietor is not practising engineering or geoscience through a corporation, partnership, or association. APEGA recommends that sole proprietors thoroughly research any potential liability implications.
Next Steps
Register your business with Service Alberta
Apply for an APEGA Permit to Practice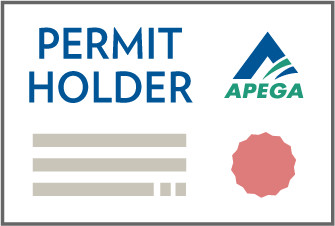 Register with Service Alberta
Contact Service Alberta for more information regarding the registration of out-of-province corporations:
A copy of the Service Alberta certificate of registration must be included with your Permit to Practice application. When new business applicants choose a business name with reserved titles such as 'engineering' or 'geoscience,' Service Alberta requires an APEGA letter of consent before they will issue certificate of registration. A consent letter may be requested from the APEGA Compliance department by email: [email protected]
Any subsidiary of a company or joint-venture group that has a Permit to Practice must also have a certificate of registration if it:
performs engineering or geoscience work in Alberta, and
is a separate entity with a name that is clearly different from the parent company or joint-venture group
Apply for a Permit to Practice
Complete the Permit to Practice application form and include your Service Alberta certificate of registration in your submission to [email protected]. You may also mail your application to the APEGA Edmonton office.
Joint Engineering & Architecture Companies

If your company offers architectural and engineering services, you must apply for approval by a joint board. The joint board is made up of people from APEGA and the Alberta Association of Architects (AAA) and ensures continued competency and ethical practice. To obtain a AAA Joint Permit, email:
Fees
New Application: $495.25 + GST
Application fees are non-refundable and subject to change.
Submission and Payment Methods

Pay by credit card: Pay your invoice through your company's myAPEGA account. Please wait for the payment instruction email before making a payment. Do not email or mail your credit card information to APEGA.
Pay by cheque:

Mail a cheque (issued to "Association of Professional Engineers and Geoscientists of Alberta") with the completed application and all required supporting documentation to the APEGA Edmonton office.

Please ensure your APEGA ID

is written on the cheque.
Practice Information
If your application is approved, APEGA will mail you a permit number and certificate, and the company name will be added to the permit holder directory.
APEGA recommends displaying the Permit to Practice certificate somewhere in the company where the public can see it. Permit certificates are the property of APEGA and must be returned if the company ceases to hold an active APEGA Permit to Practice.
APEGA permit holder must understand its regulatory obligations and practice requirements. This includes, but is not limited to: