2017 Research Excellence Award Recipient
This award is presented to an individual, team, or project that has conducted research in engineering and geoscience that has improved our economic and social well-being.
Josephine Hill, P.Eng., PhD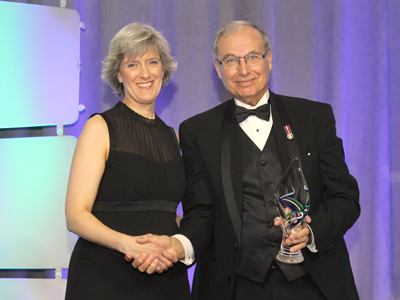 Dr. Josephine Hill, P.Eng., is an accomplished scholar, educator, and leader in the field of catalysis and chemical engineering. She established and leads the Laboratory for Environmental Catalytic Applications. The lab is located in the Department of Chemical and Petroleum Engineering at the University of Calgary's Schulich School of Engineering, where she has taught since 2002.
Dr. Hill's research focuses on improving the efficiency of chemical and electrochemical processes to reduce their effect on the environment. Her leading-edge research on alternative energy and sustainable fuel generation is recognized internationally. She is also examining new ways to convert waste products from heavy-oil upgrading and agriculture to value-added products.

Her 86 peer-reviewed publications have generated an impressive 2,200 citations, demonstrating the rigour and quality of her research.

Dr. Hill regularly collaborates with researchers across Canada and internationally. She helped create a free knowledge base for solid-oxide fuel cell information through the Natural Sciences and Engineering Research Council of Canada. Her contributions were recognized in 2014 when she was one of the first scholars invited to join the College of New Scholars, Artists and Scientists, an organization launched by the Royal Society of Canada.

As a professor, Dr. Hill has mentored hundreds of undergraduate and graduate students. She was awarded a prestigious Killam Annual Professorship in 2017 for her continued excellence in research and teaching.

As a volunteer – with groups such as Women in Science and Engineering, Operation Minerva, and Cybermentor – she encourages young women to pursue engineering and science careers. These contributions were honoured in 2012 when she received APEGA's Women in Engineering and Geoscience Champion Summit Award.