2020 Early Accomplishment Award Recipient
This award is presented to APEGA members who are recognized by their peers for their integrity, expertise, and outstanding accomplishments in fields related to engineering or geoscience at an early stage in their professional career.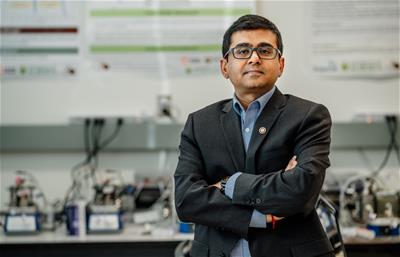 Growing up in Bangladesh, Bipro Dhar, P.Eng., PhD, had his career path mapped out when he was still a young boy. His father, a civil engineer who had retired from the country's Roads and Highways Department, shared his experience of the profession with his son, who took great interest in the stories.

"He inspired me to pursue engineering," states Dr. Dhar. "Back home, we have a lot of environmental issues, and I thought I could one day contribute to solutions through engineering."

After earning an undergraduate degree in chemical engineering at the Bangladesh University of Engineering and Technology, he came to Canada to further his education. Naturally curious and very determined, Dr. Dhar decided to pursue a career as an academic. "I find research exciting—every time, you work with new challenges," he explains. "Another exciting part of academia is working with students. We explore and learn together and, sometimes, discover new engineering solutions."

Dr. Dhar earned his master's degree in chemical and biochemical engineering from Western University and a PhD in civil engineering from the University of Waterloo. In 2016, he accepted a position with the University of Alberta's Faculty of Engineering as an assistant professor of environmental engineering.

In the short time since, Dr. Dhar has established himself as a leading expert on bioenergy and value-added resource recovery from waste and wastewater. He and his research team are currently working with multiple industry partners to optimize engineering bioprocesses to transform waste into useful products, such as bioenergy, fertilizer, and industrial chemicals. His team is also developing a biosensor to monitor toxic compounds in water from oil sands tailing ponds in northern Alberta.

Dr. Dhar is a prolific academic, having published more than 40 journal articles, 50 conference papers, and three book chapters, with more than 1,000 citations to date. His research has been considered favourably by major funding agencies in Canada. Since August 2016, he has secured more than $1 million in research funding as a principal investigator.

Even with these impressive career achievements, Dr. Dhar says his greatest pride comes from the accomplishments of his students—those in his courses and the graduate students in his lab. "The success of my students is my success."