2016 Environment and Sustainability Award Recipient
This award is presented to members of APEGA who have demonstrated excellence in the application of engineering or geoscientific methods towards preservation of the environment and the practice of sustainable development.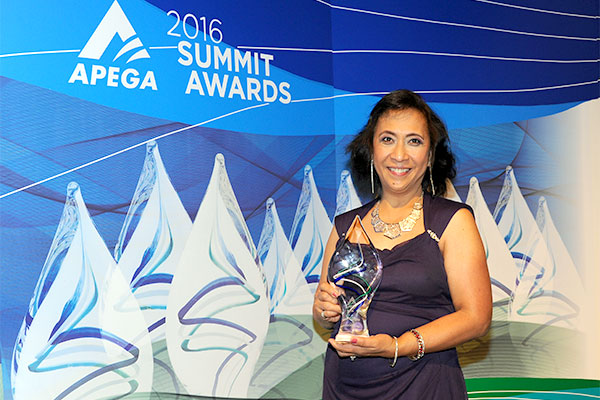 Lourdes Lugue, P.Eng., is a Senior Process Engineer with the City of Calgary.
As Project Manager of the Leachate Treatment Pilot Plant (LTPP) at the East Calgary Waste Management Facility, Ms. Lugue aims to evaluate the treatability of leachate generated by each of the three active waste management facilities operated by the City of Calgary.

Leachate is any liquid that extracts soluble components when passing through matter, such as waste. Untreated leachate is many times more polluted than raw municipal wastewater. The pilot project was born out of concerns about leachate's potential effect on the environment and plant operations at the City of Calgary's Bonnybrook Wastewater Treatment Plant.

The ambitious project, which encompasses the entire scope of engineering sciences, began with a one-year evaluation study in March 2014. Data were collected through continuous operation of the pilot plant to gauge the effectiveness of three process treatment technologies in treating raw leachate to a quality that conforms to the City's sewer bylaws.

The quality of treated leachate not only met but exceeded the City's standards. Ms. Lugue then led her team in conducting a leachate reusability study to evaluate the usability of leachate for irrigating flowers and trees for City landscaping, which showed promising results.

The project, and engineering firm CH2M Hill Canada, went on to win two Consulting Engineers of Alberta Awards of Merit in 2016. The City of Calgary now hopes to build full-scale leachate treatment facilities for each active waste management facility.

Ms. Lugue's leadership and extensive engineering experience were key to the success of this pilot study. By properly managing and treating the leachate generated by the facilities, our environment will be better protected against potential pollution over many generations to come.