2020 Centennial Leadership Award Recipient
This award is presented to members of APEGA who have attained the highest distinction relating to engineering or geoscience through directorship of an outstanding project, original research or inventions, or an exemplary career in teaching.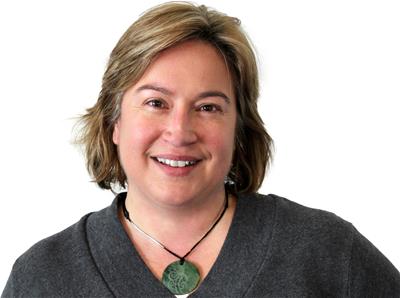 Alison Thompson, P.Eng., grew up in Pickering, Ontario, less than two kilometres from one of the world's largest nuclear power stations. In the 1970s, the plant had an interpretative centre where she spent many happy hours. "I'd ride my bike there after school and on the weekends," she remembers. "For the longest time, I thought I'd be a nuclear engineer."

In the end, Ms. Thompson didn't become a nuclear engineer: she earned undergraduate and graduate degrees in chemical engineering from McGill University. In the summers, she worked for conventional energy companies in Alberta. One job in particular—at the Waterton Gas Complex in Pincher Creek—set the tone for the rest of her career.

"After two weeks, my boss went on vacation and gave me the keys. He said, 'OK, you run the sulphur plant now,'" shares Ms. Thompson. It was a rare opportunity to report to the superintendent, understand plant operations, and develop empathy for front-line workers. The experience came in handy after graduation, when she held field engineer roles at a Kansas coal utility and then a Suncor gas plant back in Alberta.

After taking a break to earn a master's degree in business administration at Queen's University in 2001, Ms. Thompson became a technology manager at Suncor. There, she worked on her first geothermal energy project and was exposed to the many legal and regulatory hurdles facing the burgeoning industry. She began speaking to government to cut some of the red tape.

It became clear to Ms. Thompson that the industry needed an advocacy organization, so she co-founded the Canadian Geothermal Energy Association in 2007, which has removed countless industry roadblocks. The next year, she launched her own company—Borealis GeoPower—to steward greater adoption of geothermal energy in the country.

Since then, the industry has grown in leaps and bounds, due in large part to her leadership. Ms. Thompson's business has also thrived, but she doesn't measure success in dollars. One of her current projects is a collaboration with the Kitselas First Nation near Terrace, British Columbia. Called Fuel for Reconciliation, the project will provide the emerging liquefied natural gas supply chain with cleaner fuel options. Another project, called Sustainaville, near Valemount, British Columbia, will also provide cleaner fuel options to a community that has some of the worst air quality in the province.

"These sorts of projects are long and difficult to do, and cost a lot of money," she explains. "I want there to be a big bang for the buck, not just for the company, but for the communities. But above all, we want to use the company as a force for good."