2017 Early Accomplishment Award Recipient
This award is presented to APEGA members who are recognized by their peers for their integrity, expertise, and outstanding accomplishments in fields related to engineering or geoscience at an early stage in their professional career.
Oliver R. Kohlhammer, P.Eng.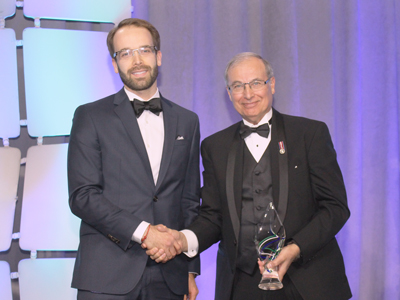 Early in his career as a mechanical engineer, Oliver R. Kohlhammer, P.Eng., is already recognized for redefining industry limits to achieve world-class results.
His work on the Lindbergh steam-assisted gravity drainage (SAGD) development is one example. SAGD is an enhanced oil recovery technology for producing heavy crude oil and bitumen. Located 75 kilometres south of Cold Lake, Alberta, the Lindbergh site came online in 2014 and produces 12,500 barrels of oil per day. The project has outperformed expectations and has the potential of producing 40,000 to 50,000 barrels per day.

Mr. Kohlhammer co-managed the project for his employer, Scovan Engineering, on behalf of Pengrowth Energy Corporation. He oversaw the development of the well pads, surface pipeline, and oil-processing components of the central processing facility, with a total installed value of more than $250 million.

The project team's use of advanced technology and design helped reduce the development's yearly operating costs by $2.5 million, eliminating 90,000 tonnes per year of greenhouse gas emissions and recycling 97 per cent of the water used for oil production.

Throughout the course of the project, Mr. Kohlhammer demonstrated strong management and exceptional leadership skills, which are also apparent through his community involvement.

He shares his passion for engineering and Alberta's energy industry by speaking to young people—through groups like Canada Bridges—about what it's like to work as a Professional Engineer and how oil is extracted in Alberta.

His volunteer work also goes beyond the world of engineering. He developed a simple maintenance course to teach youth how to maintain their own bicycles and has coached youth soccer. In 2013, he aided the Red Cross during the 2013 flood recovery efforts in the town of High River and in First Nations communities around Calgary.

He and his wife are foster parents, providing care for children in need. Mr. Kohlhammer has also volunteered locally and abroad for HOPEthiopia, helping people in Ethiopia and Rwanda by supporting construction projects, coaching children's sports, and mentoring community members.