2016 Project Achievement Award Recipient
This award is presented to an engineering or geoscience project that contributes new technologies, processes, or innovations for the improvement of society.
South Red Deer Regional Wastewater System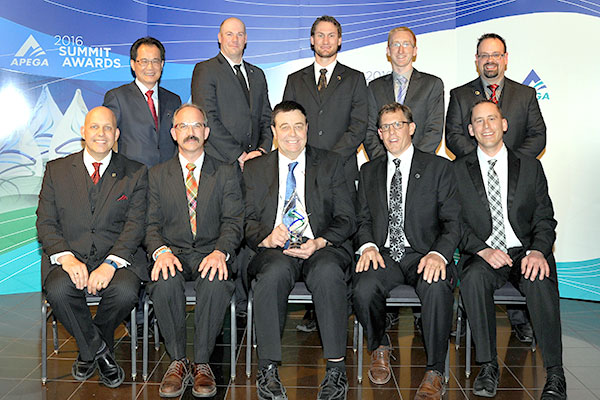 The South Red Deer Regional Wastewater System, designed by Stantec, began operation in 2015 and transmits wastewater from communities in central Alberta to the upgraded City of Red Deer Wastewater Treatment Plant.
The regional solution was developed to support growth and economic development, ease implementation of future wastewater treatment technologies and allow participating communities to respond to changes in wastewater discharge standards.

By implementing the South Red Deer Regional Wastewater System, approximately 119 kilometres of sensitive river segments are now better protected, including a stretch that provides drinking water to over 150,000 people along the Highway 2 corridor from Crossfield to Ponoka.

Constructing the system required innovative approaches and leading-edge technology to manage the long distances and high variability in wastewater retention times, which range from one-and-a-half to four days across the length of the system.

Project innovations include:

a state-of-the-art odour management facility that ensures high levels of hydrogen sulphide do not negatively affect operations
a supervisory control and data acquisition records and reporting system that enables operators to remotely manage the system
strategically placed pressure-sustaining valves to ensure that the pipelines stay full when lift stations are not pumping
horizontal-direction drilling to minimize disturbances to the environment and public
a triple-barrel siphon river crossing shared with the City of Red Deer, reducing the environmental impact of multiple construction events and project costs
oversized gravity pipes that provide extra storage and reduce effective peak-flow times, offering operators extra time to address emergent issues
interim pumping that relieved the pressure off of community wastewater treatment plants for the final two years of system construction