2019 Frank Spragins Technical Award Recipient
This award is presented to APEGA members recognized by their peers for their integrity, technical expertise, and outstanding accomplishments in fields relating to engineering or geoscience.
Ian Gates, P.Eng., PhD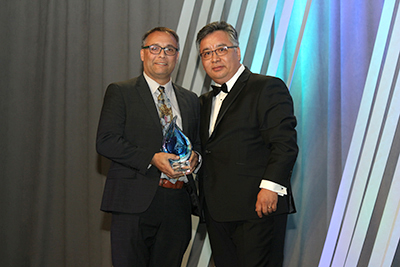 Dr. Ian Gates, P.Eng., joined the department of chemical and petroleum engineering at the University of Calgary in 2004. He holds an astounding 45 awarded and pending patents and has written more than 119 peer-reviewed papers, 160 conference proceedings papers, and a book on reservoir engineering. In 2006, he founded a start-up that provided engineering and simulation solutions to the energy industry. The company counts nearly all of the supermajors as clients and was sold to Schlumberger in 2013.
In 2017, Dr. Gates, along with his renowned research group, discovered how to transform heavy oil and bitumen into what he calls "bitumen balls"—a potential game-changer for the industry. These self-sealing pellets of bitumen—their liquid core surrounded by super viscous skin—can be transported by truck or rail. Dr. Gates is commercializing this revolutionary technology with a new start-up company called Solideum Inc.
A prolific researcher, Dr. Gates has received national and international funding for numerous research projects. Financial endowments have included multi-year research grants and in-kind offerings. All told, he has been awarded $8.7 million in national and international research funding since he started at the university. He's currently director of the university's Global Research Initiative in Sustainable Low Carbon Unconventional Resources, a $75-million research program to generate new solutions to unconventional energy challenges. The program is funded by the Canada First Research Excellence Fund.
Keen to help others reach the same great heights, Dr. Gates speaks to industry, government, and the public about how to convert research into outcomes that matter for their communities. With a proven ability to find new solutions to old problems, he is showcasing the university as an important hub of creativity and innovation for engineering challenges.