2019 Environment and Sustainability Award Recipient
This award is presented to members of APEGA who have demonstrated excellence in the application of engineering or geoscientific methods towards preservation of the environment and the practice of sustainable development.
Jeff Rent, P.Eng.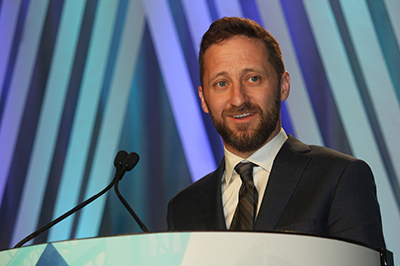 Jeff Rent, P.Eng., graduated with a degree in mechanical engineering from Dalhousie University in 2005. He soon found his passion in green building design—that is, creating environmentally responsible and resource-efficient structures. His projects have received provincial and national awards, and more than 30 of them have received Leadership in Energy and Environmental Design certifications. In the last seven years, his projects have received five Excellence in Sustainability and Design Awards from the Consulting Engineers of Alberta.
One of Mr. Rent's notable successes is Studio Bell, the home of the National Music Centre in Calgary. As well as a monument to Canadian music, it's an iconic piece of the East Village revitalization. Behind the scenes of the interactive displays, recording studios, and concert venues lies Mr. Rent's handiwork. The building captures and reuses heat created during normal use to improve its energy efficiency and decrease its operating costs. Mr. Rent and his team designed Studio Bell to be well equipped to handle floods, such as the one that hit Calgary midway through the building's construction.
Mr. Rent was also heavily involved with the Calgary Composting Facility, the largest of its kind in the country. He and his team designed an extensive water-reuse system that uses hazardous runoff, water from showers and sinks, and rain water to irrigate the facility's composting material. With this forward-thinking design, the facility saves more than 40 million litres of potable water per year, the same amount of drinking water consumed by 40,000 people. The efficiency of the facility and the success of its programs have already diverted more than 200 million kilograms of waste from Calgary landfills.
As a mechanical engineer, Mr. Rent has supported many significant developments, from critical infrastructure, to cultural spaces, to educational buildings. And with his commitment to eco-friendly and sustainable designs, he's playing a notable role in preserving the environment for generations to come.