2017 Excellence in Education Award Recipient
This award is presented to members of APEGA who have made exemplary contributions to teaching and learning at a recognized post-secondary institution in Alberta.
Janet A.W. Elliott, P.Eng., PhD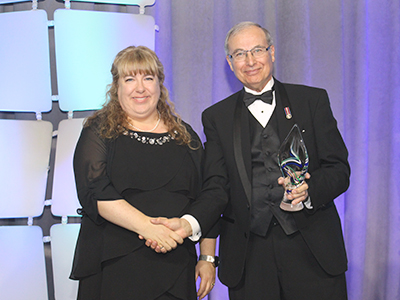 Dr. Janet A.W. Elliott, P.Eng., is a professor of chemical and materials engineering and Canada Research Chair in Thermodynamics at the University of Alberta. She could – in the words of one of her students – "convince rocks to study thermodynamics."
With her enthusiasm for education, genuine care for students, and creative mind, she is forging a path to excellence in undergraduate and graduate education.

Faced with increased class sizes and limited resources, Dr. Elliott has demonstrated exceptional dedication to her role, implementing new practices to optimize learning and the student experience. Students appreciate her ability to explain difficult concepts with clear examples, along with her selfless dedication to answering their questions, even outside of class time.

Her hard work is reflected in increasingly excellent student evaluation scores, favourable comments, and improved student understanding of complex subjects. Dr. Elliott continuously receives among the highest student rankings at the University of Alberta's Faculty of Engineering for all courses she teaches – from large, introductory undergraduate courses to small upper-year and graduate courses.

She also enjoys mentoring new faculty members, sharing her methods for student engagement and success. She encourages them to take a student-centred, project-based approach to teaching.

Dr. Elliott's deeply held belief in the value of interdisciplinary research is evident in her commitment to cross-faculty training. She has supervised graduate students in chemical engineering, mechanical engineering, and medical science, as well as postdoctoral fellows from the fields of engineering, physics, mathematics, biology, and medicine.
Together with Dr. Locksley McGann, from the University of Alberta's Faculty of Medicine and Dentistry, she created a novel, joint-degree program leading to a master's or doctorate degree in engineering and medical science. As evidence of the program's quality, its first graduate was invited to do a postdoctoral fellowship at Harvard Medical School – without even applying.