2017 Centennial Leadership Award Recipient
This award is presented to members of APEGA who have attained the highest distinction relating to engineering or geoscience through directorship of an outstanding project, original research or inventions, or an exemplary career in teaching.
Gary Faulkner, P.Eng., PhD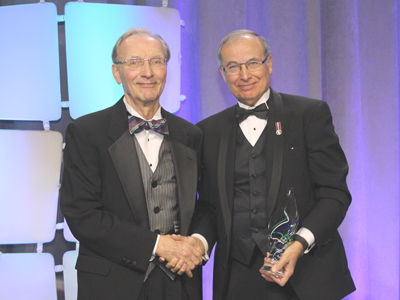 For nearly five decades, Dr. Gary Faulkner, P.Eng., has provided outstanding leadership as a tireless volunteer, an innovative researcher, and an inspiring teacher and mentor.
Most notable are his 27 years of service on APEGA's Board of Examiners (BOE), which reviews the qualifications of engineering and geoscience applicants seeking registration with APEGA. Dr. Faulkner joined the Board in 1989 as an Academic Examiner in mechanical engineering. He became Chair in 1995, a role he held for 21 years. In 2007, he received APEGA's L.C. Charlesworth Professional Service Award in recognition of his long-term commitment.
As BOE Chair, Dr. Faulkner supported the growth of APEGA's membership while ensuring applicants met APEGA's high standards for professional licensure. He also helped set and update board policies, contributing thousands of hours of service throughout his tenure. At the national level, he ably represented APEGA on the Canadian Engineering Qualifications Board and as Chair of the International Engineering Academic Qualifications Committee.
Since 2009, Dr. Faulkner has served as the Director of Rehabilitation Research and Technology Development at the Glenrose Rehabilitation Hospital. He has developed pioneering treatments that use robotics, virtual reality, and other innovations. His work has led to faster recoveries and improved quality of life for hundreds of individuals. Numerous patients with severe facial disfigurement say they have been given their lives back thanks to his treatments. He also supports the head-and-neck reconstruction unit at Misericordia Hospital.
Dr. Faulkner began his career as a mechanical engineering professor in the University of Alberta's Faculty of Engineering. He led development of a biomedical engineering program and was Chair of the Department of Mechanical Engineering for seven years, leading the department through a major reorganization and overseeing a 40 per cent increase in undergraduate enrolment.