2022 Community Service Award Recipient
This award is presented to an individual who has made significant improvements to a community in need through efforts in the engineering or geoscience profession.
Dr. Kashif Hussain, P.Eng.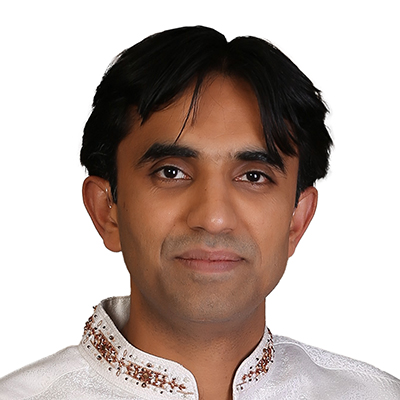 By the time they arrived in Canada, in 2008, professional engineer Kashif Hussain, PhD, and his wife had travelled to 14 countries and lived on three continents. Making their way to Alberta, they were ready to lay down roots—and make a difference in their new province.

After Dr. Hussain secured a job with Suncor Energy, he and his wife found a home in Fort McMurray. There, they began their family—which now includes three children—and launched themselves into more than a decade of community involvement. Alongside his wife, Dr. Hussain is an exceptional fundraiser, community organizer, and volunteer. He has raised $135,000 for diverse causes, including more than $10,000 for the Canadian Cancer Society and almost $15,000 for the Sick Kids Foundation, and he partnered with Spelling Bee of Canada to bring the first event to the area. He serves on several non-profit boards, and he motivates his entire family to volunteer for community activities, such as food-bank drives and Islamic Awareness Day.

These good works are matters of kindness, which is an important part of the family's Muslim faith. Additionally, he and his wife strive to be good global citizens. "We've learned that no matter how big or small the efforts are, we can make a difference to bring a positive change in the world," he explains.

Involving his children is a way for Dr. Hussain to instil in them the same values he holds dear and to lead by example within the larger community. Together, they have raised funds for Human Concern International by participating in its No Sock Challenge, a campaign that invites supporters to stand barefoot in a bucket of ice or outside in the snow for 30 seconds. Proceeds aid refugees living in camps around the world who may not have the appropriate clothing or shelter to keep themselves warm. "One of the most rewarding things about our work is being able to foster volunteerism and encourage people to work together to make our community better every day," he notes.

He extends his volunteer endeavours to his workplace, as well. After completing holistic parenting training, he began conducting monthly education sessions on the subject for his colleagues. He also mentors engineers-in-training, co-op students, and new hires.

It's a busy life—too busy, sometimes—and although Dr. Hussain plans to slow down a little to achieve greater balance, he maintains the kind-heartedness that inspired him to give back in the first place. The region has been good to his family, and he wants to ensure others can thrive, too: "I'm honoured to be part of such a great community."