2019 Research Excellence Award Recipient
This award is presented to an individual, team, or project that has conducted research in engineering and geoscience that has improved our economic and social well-being.
Nader Mahinpey, P.Eng., PhD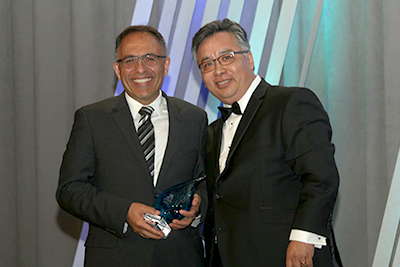 A professor in the chemical and petroleum engineering department at the University of Calgary, Nader Mahinpey, P.Eng., PhD, is discovering ways to reduce Alberta's greenhouse gas emissions. Promising cost-effective carbon-reduction technologies in Alberta, his leading-edge research programs are creating a buzz in the oil and gas industry.
Dr. Mahinpey's research provides the groundbreaking innovations needed to design and commercialize successful carbon capture and conversion technologies. He has attracted significant funding through partnerships with government and industry. This funding has facilitated the creation of a world-class laboratory and five patents, 120 journal papers, and 130 conference proceedings.
Disseminating his high-calibre research extensively across Canada and the world, Dr. Mahinpey delivers keynote addresses, participates in international conferences, and holds formal appointments as a visiting professor.
Decreasing the carbon footprint of Alberta's energy sector is crucial to its sustainability in a world demanding more eco-friendly energy-generation processes, and Dr. Mahinpey has established himself as a keystone in this endeavour. His research holds the power to transform the energy industry in Alberta and present the province as a pioneer in the reduction of carbon dioxide emissions on a global scale.