2016 Early Accomplishment Award Recipient
This award is presented to APEGA members who are recognized by their peers for their integrity, expertise, and outstanding accomplishments in fields related to engineering or geoscience at an early stage in their professional career.
Leon Prebeau-Menezes, P.Eng.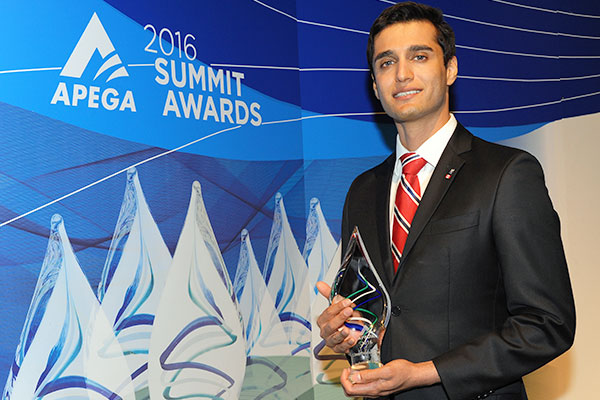 Since joining Statoil international in 2012, Mr. Leon Prebeau-Menezes, P.Eng., has already demonstrated high levels of achievement in his field.
As a Senior Well Engineer with Statoil ASA, a Norwegian multinational oil and gas company, Mr. Prebeau-Menezes works mainly with platform and subsea wells off the North Sea. His responsibilities include planning and managing an operational budget of US$20-80 million.
Mr. Prebeau-Menezes was on the team that installed the world's first MIC 3+ extended-reach intelligent well completion system. This enables Statoil to better control the flow of oil from wells with multiple branches, which optimizes oil production at the Troll gas field. For his paper on this, Mr. Prebeau-Menezes received the 2013 Halliburton Award for Contributions and Dedication to the Development of Petroleum Technology at the Offshore Technology Conference in Rio de Janeiro.
He was also one of about 13 individuals selected to take part in the Statoil Talent Trader Program in 2014, and even more recently, he was selected as one of the youngest recipients of the Society of Petroleum Engineers (SPE) Completions Optimization and Technology Award for the North Sea in 2015.

Mr. Prebeau-Menezes is currently planning the design of the world's deepest steerable drilling liner system application.

He has already authored and co-authored six publications and made multiple presentations internationally in his field.