2016 Women in Engineering and Geoscience Champion Award Recipient
This award is presented to an individual, team, or organization that supports women in engineering and geoscience with diversity initiatives and inspirational support.
Calgary Women in Klohn Committee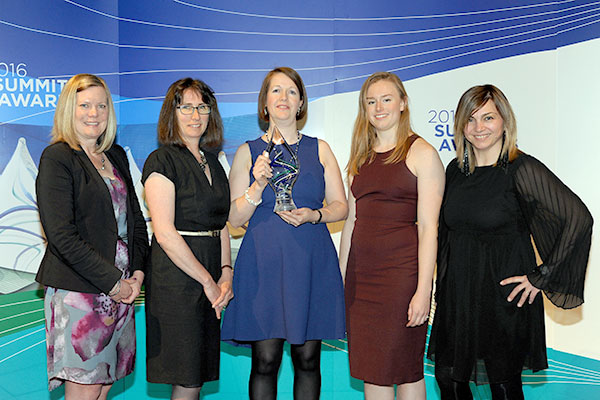 Klohn Crippen Berger (KCB) is an international engineering, geoscience, and environmental consulting firm. In its Calgary office, women represent 35% of the total workforce and 26% of the engineering and geoscience staff.
In October 2011, senior female staff organized a workshop for women on effective communication, conflict resolution, and management of challenging situations. The workshop was so successful there was enthusiasm and discussion about further events to provide support and networking opportunities for female staff.

As a result, KCB employees Karen Sagar, P.Eng., Lucy Philip, Vanessa Bellardinelli, and Michelle Van Elsberg formed the Calgary Women in Klohn (CWiK) committee in 2013 to further attract, retain, engage, and support women in KCB's Calgary office. Chelsea Wisheart, E.I.T., joined the CWiK committee in 2015 as the Young Professionals representative. The committee strives to advance gender issues in engineering and geoscience—professions that still remain predominantly male.

The CWiK committee routinely organizes events for staff focusing on mentoring and coaching, leadership development, skill advancement, and relationship building.

The committee has been influential in implementing changes to company policies for the benefit of all employees. Members of the CWiK committee successfully collaborated with KCB's global Women in Klohn committee and human resources team to broaden the company's sick-leave policy, allowing employees to use sick-leave entitlement to accompany family members to medical appointments, or to care for them when they are sick.

In 2015, the CWiK committee broadened into outreach programming. The committee became involved in Operation Minerva, a one-day job-shadowing opportunity for grade-eight girls in Calgary to visit female mentors and employers in STEM fields.

The CWiK committee is also invested in staying connected to female colleagues around the world, through representation and participation in KCB's global Women in Klohn meetings and events.