2016 Honorary Membership Award Recipient
APEGA may confer honorary membership upon any person who has rendered eminent service to the engineering or geoscience professions resulting in the betterment of society through the development of new material, equipment, techniques, philosophy or management.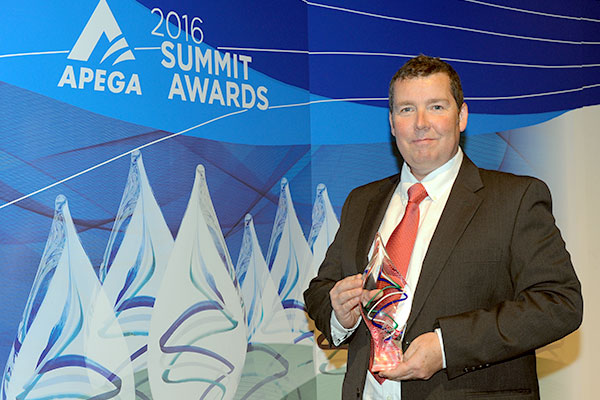 In his role as Production Operations Manager at Shell Canada, Mr. Robin Gardiner has made significant contributions to process safety on a global scale. He is widely considered a thought leader in process safety and asset integrity, which has raised the bar within Royal Dutch Shell, benefiting engineers, geoscientists, leaders, frontline workers and society as a whole.
Mr. Gardiner successfully developed a framework for delivery of process safety requirements that makes it simple for engineers to connect frontline workers with established process safety guidelines. He also implemented process safety procedures for leaders which define required levels of competency for different levels of leadership, allow formal validation of competence, and identify potential gaps in safety.

Among his many innovations and accomplishments, Mr. Gardiner championed the Living Programs approach to process safety, which focuses workers and leaders on the regularity and importance of tasks and processes. This approach also provides engineers with a comprehensive suite of programs to drive and maintain excellence in process safety and asset integrity.

Mr. Gardiner is diligent in encouraging senior leadership to adopt a process safety conscience, forcing them to challenge how they think about process safety. Engineers at Shell are challenged and better equipped to challenge others' perspective on process safety, enabling them to foster a strong process safety culture and performance.

Mr. Gardiner pioneered process safety engagement sessions for engineers and frontline staff, and he continuously works to raise awareness and further engender a company-wide commitment to safety.