2020 Environment and Sustainability Award Recipient
This award is presented to members of APEGA who have demonstrated excellence in the application of engineering or geoscientific methods towards preservation of the environment and the practice of sustainable development.
The Bioengineering Demonstration and Education Project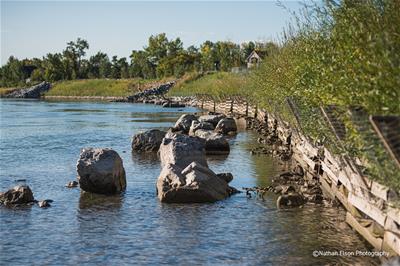 The historic flood that ravaged Calgary in 2013 took five lives and destroyed countless homes and businesses. All told, the natural disaster—one of Canada's costliest—left the city with an estimated $5 billion in damages, with $409 million to infrastructure alone.

After the waters receded, extensive efforts were made to prevent future floods of this magnitude. Conventional mitigation techniques included installing rip-rap—a matrix of rocks—along the bank of the Bow River to protect the shoreline from further erosion. Though practical and necessary at the time, this strategy can harm the riparian zone—the habitat where the land and water meet—that's critical to the health of a river.

That's where the Bioengineering Demonstration and Education Project, completed in 2019, came in. Located in Calgary's Inglewood neighbourhood, the project was a partnership between Alberta Environment and Parks and the City of Calgary to reverse the harm done to fish and aquatic habitats. Its success relied on the effective use of bioengineering—incorporating living vegetation to stabilize the riverbank and control erosion.

"It makes more sense on the habitat side of things, regulatory side of things, and aesthetic side of things—people prefer to see vegetation," informs Mike Gallant, P.Eng., a water resources engineer with Kerr Wood Leidal (KWL) Consulting Engineers, who led the design team. The team used 14 bioengineering techniques, seven of which had never been used in Calgary, including hedge-brush layers and vegetated rip-rap with rooted, live cuttings.

"This was a challenging project on many fronts," reveals Gallant. Some of the issues were logistical. "We could only enter the river to do work in two windows: in the early spring and six weeks in late summer," he explains. It didn't help that the project area included one of the deepest scour holes on the Bow River. Other difficulties included preventing endangered bank swallows from nesting during construction and removing 2,000 tonnes of concrete rubble and waste from the shoreline.

In addition to restoring the riverbank, the project raised the industry standard by demonstrating the successful use of nature-friendly alternatives to conventional mitigation techniques. The project now serves as a learning tool for engineering professionals and the public with the incorporation of site signage, a living laboratory, and a key stop for the RiverWatch program.

"The whole purpose was to stabilize the bank and restore the riparian zone and habitat," states Mr. Gallant. "This was a wonderful opportunity to display bioengineering techniques."

Key members involved in the project's development include:

Mike Gallant, P.Eng.
Andrew Szojka, P.Eng.
Dave Murray, P.Eng.