APEGA Publications & Important Documents
APEGA publishes a variety of reports to assist our members in their roles and responsibilities. We also provide documents to help the public understand our regulatory role and the role our members have in serving the public interest.
Each spring, as required by the Engineering and Geoscience Professions Act, APEGA produces a report of its activities, statistics, and finances, which it submits to the minister of labour and immigration to present to the Alberta Legislature.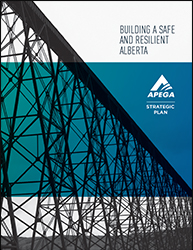 This strategic plan reinforces the mission and vision of APEGA. It sets long-term goals in being a leader in self-regulation while protecting the public. It stresses the importance of being relevant to our members, mindful of changes affecting our professions, and accountable to delivering on APEGA's priorities.
The identified goals and strategies are a road map to guide the organization for years to come. The guidance a strategic plan provides is crucial, particularly for regulatory bodies, as it supports governing at the highest level of excellence.
Translating strategy into execution will be the work of all leaders at APEGA, requiring an unwavering commitment to our priorities, and ongoing collaboration with Council and our many stakeholders.
APEGA's Position on ASET's Scope of Practice Proposals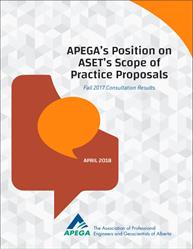 In 2014, APEGA began a legislative review to modernize the Engineering and Geoscience Professions Act (the Act), which had its last major update in 1981. As the regulator of engineering and geoscience in Alberta, we need to ensure the Act continues to protect the public interest and reflect current business practices. Consultations with stakeholders, including the Association of Science and Engineering Technology Professionals of Alberta (ASET), have been ongoing since the legislative review began.
APEGA and ASET agree on some of the recommendations submitted to government as part of the legislative review. However, ASET has a divergent perspective on several critical areas, including scope of practice and joint regulation of professional technologists.
Read the consultation results from 2018 (PDF) Read more about this process