2019 Community Service Award Recipient
This award is presented to an individual who has made significant improvements to a community in need through efforts in the engineering or geoscience profession.
Russ Wlad, P.Eng.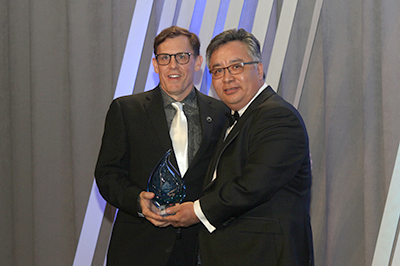 Russell Wlad, P.Eng., has been a steady presence at Stantec since he began his engineering career. After graduating from the University of Alberta in 1989 with a bachelor of science degree in civil engineering, he started his career at Stantec, working across Alberta and internationally. Now the Executive Vice-President and Regional Operating Unit Leader for Canada, Mr. Wlad oversees 8,500 staff nationally and has built many award-winning project teams.
Mr. Wlad combines his passion for his profession and commitment to building communities in a coordinated effort to help others. He's been a dedicated committee member for many successful fundraisers, including the annual Love of Children event, raising more than $2 million for the Red Deer Regional Hospital Centre's pediatric ward to buy state-of-the-art equipment. He spent five years as committee chair for the Canadian National Institute for the Blind's annual central Alberta fundraiser, raising more than $300,000 and opening the institute's central Alberta office. He earned more than $6,000 for cancer research through the Enbridge Ride to Conquer Cancer in 2015 and 2018. He has also been a member of Rotary International for more than 25 years. In appreciation for the many contributions he's made to his community, he received a Mayor's Recognition Award in the Community Builder category in 2016.
Extending his reach in the community, Mr. Wlad has served on many boards, including the Canada Public Works Association and Red Deer Minor Hockey. He's currently a board member for the 2019 Canada Winter Games, planning and coordinating games and advising on the infrastructure and facilities. His generosity and involvement have inspired his colleagues to get involved—Stantec's staff supports many charities and community events.
A key figure in central Alberta, Mr. Wlad has left his mark on many communities. And through professional commitment, participation, and collaboration, he has brought those communities together.