2022 Research Excellence Award Recipient
This award is presented to members of APEGA who have conducted innovative research in engineering or geoscience that has been successfully applied to improve economic and social well-being.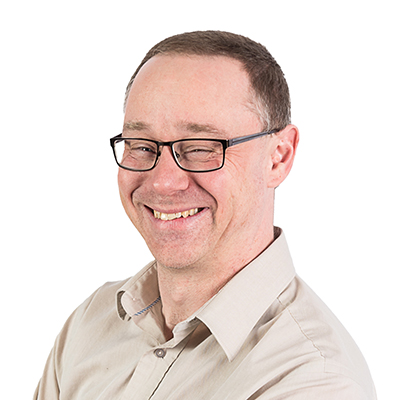 As a child, professional engineer Derek Lichti, PhD, was forever drawing maps of real and imagined places. He had no way of knowing, at such a young age, that he was creating guideposts to his eventual career.
Years later, when he was in his teens, his mother showed him a newspaper advertisement for a community college program. The advertisement beautifully illustrated the concept of photogrammetry—the creation of topographic maps using aerial photography—and he was captivated. "I thought, 'You can do that?' It really appealed to me," he remembers.
Photogrammetry is one aspect of geomatics—the collection, analysis, and interpretation of spatial data—and one of Dr. Lichti's areas of expertise. Now a geomatics engineering professor, he earned a bachelor of technology degree in surveying engineering at Ryerson University in 1993 before venturing to the University of Calgary. Once there, he received his master's degree in geomatics engineering in 1996 and his doctorate three years later.
The field of photogrammetry has greatly evolved since the day Dr. Lichti first learned of its existence. It now uses a wide range of imaging sensors to map the "built world," including terrestrial laser scanners—the focus of his research. He's intent on improving the accuracy of these laser scanners, with far-reaching applications that include more effectively monitoring pipelines and studying archaeological sites.
Dr. Lichti's research rippled through the mining sector in 2005 when he devised a technology that revolutionized the grinding-mill inspection process. Previously, technicians had to climb inside mills to manually inspect the liners. Dr. Lichti completely transformed the time-consuming, risky, and error-prone process. He developed a tool—called MillMapper—that uses 3-D laser scanners placed inside the mill to provide a full and accurate view within minutes. MillMapper is now a globally patented technology and is the industry standard in monitoring and modelling mill liners.
A researcher's career—like research itself—evolves in gradual increments, and it can be hard to see the sum of one's accomplishments, notes Dr. Lichti. He says the Research Excellence Award is an honour to receive and a delightful reminder of all he's achieved: "When I got the email right before Christmas, I jumped up in the air!"