2023 Early Accomplishment Award Recipient
This award is presented to APEGA members who are recognized by their peers for their integrity, expertise, and outstanding accomplishments in fields related to engineering or geoscience at an early stage in their professional career.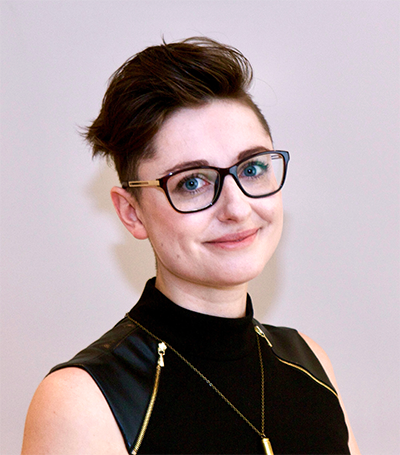 "I was four years old when my dad gave me the nickname Rocky," says professional geoscientist Rochelle Longval. The name fits her—from a young age, she knew she'd study the natural processes of the Earth. This early passion, combined with her work ethic and a heart for humanity, solidified her as a force for good in the profession.
Longval lives in a home heated by a wood-burning stove in Kaslo, a village in southeastern British Columbia. She moved there in 2019 after winning a contest introducing young urban couples to the benefits and balance of rural life. The area hosts a close-knit community where residents help one another through the monthly power outages. Living in an area with energy that isn't always accessible gives Longval first-hand experience in its importance.
When her neighbour asked her to check out a strange occurrence in his yard that turned out to be a hot spring rising from the ground, she realized they lived on a Canadian hotspot. "It got me thinking that this resource could be a sustainable solution to provide more accessible energy to this area, to these rural communities."
Her interest in geothermal energy warmed like the underground stream, and she began to strategize how she could leverage it in other communities, including those in Alberta. "I was hungry for knowledge in this sector. I pushed the boundaries of my comfort zone and pivoted my career as a geoscientist to harness the Earth's heat."
This knowledge and enthusiasm have allowed her to be recognized as a catalyst for changing the face of energy. She launched a future-focused business exploring the use of carbon capture and storage to generate geothermal energy. Through this venture, she expanded her technical knowledge and refined her business acumen, gaining an understanding of innovative solutions for Alberta's energy mix.
She now works at Novus Earth Energy, where she looks to build resilience and energy security in communities like Hinton, Alta., by helping them leverage geothermal resources to meet their energy needs. She often acts as a liaison, bridging the gap by explaining technical components of projects to communities and investors. She finds it easy to understand the community's point of view—she's living a similar experience. These talents and circumstances enable her to walk in technical, business, and community-focused spaces with ease.
Longval's enthusiasm for geothermal energy is a geyser of inspiration to the professionals around her—she helps her fellow geoscientists expand their skills to join the energy transition. Her commitment to ensuring accessible energy makes her a foundational rock on which communities can place their trust knowing that change for the better is in the works.
Awards and Distinctions
Ambassador, Energy Futures Lab (2023)
Coach, Avatar Innovations (2023)
Fellow, Energy Futures Lab (2022)
Finalist, CarbonTech Accelerator, Avatar Innovations (2021)
Volunteer Recognition, Canadian Energy Geoscience Association (2017)
Young Women in Energy Award (2017)
Recipient, Alberta Women's Science Network Scholarship (2013)
Undergraduate Award, Canadian Society of Petroleum Geologists (2013)
Professional Affiliations and Activities
Co-Chair, Geothermal Technical Division, Canadian Energy Geoscience Association (2022–present)
Director, Regional District of Central Kootenay Technical Advisory Committee (2021–present)
Director, Earth Science for Society, Science Odyssey (2017–2019)
Assistant Guide, Burgess Shale Geoscience Foundation (2016–2018)
Energy Educator, Take Our Kids to Work Day (2016–2020)
Founder, Geoscience Women's Group, Canadian Energy Geoscience Association (2016–2017)
Geoscience Educator, Alberta Science Network (2016–2021)
Member, APEGA (2013–present)