2023 Excellence in Education Award Recipient
This award is presented to members of APEGA who have made exemplary contributions to teaching and learning at a recognized post-secondary institution in Alberta.
Dr. Mohammad Moshirpour, P.Eng.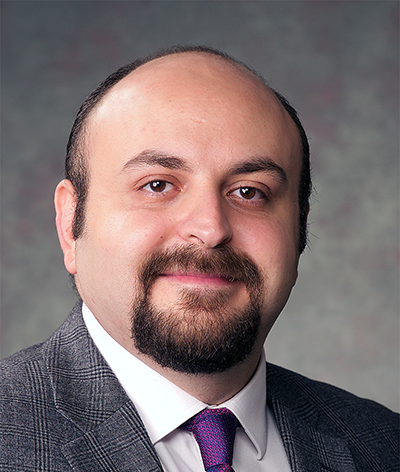 Professional engineer Dr. Mohammad Moshirpour is helping to create the most capable software engineers in our province. Graduates of his course at the University of Calgary's Schulich School of Engineering are well-prepared to launch into an industry that innovates rapidly. "I want to teach my students strong, fundamental knowledge and critical-thinking skills—and the ability to continually learn. Technology is evolving all the time, and you have to keep up."
Dr. Moshirpour developed the master's in software engineering program at the University of Calgary (U of C), a one-year fast-track degree for students looking to specialize in software engineering after they've obtained their engineering degree. He is responsible for one of the largest research labs at Schulich, the Software Engineering Practice and Education Research Group, where he marries the interests of the exploding technology industry with his students' skills. His methods work—his students are the reigning champions two years running at the Canadian Engineering Competition.
The master's program provides practical, hands-on projects with local and international technology companies—relationships Dr. Moshirpour builds and maintains. His students learn the realities of the industry, contributing in meaningful, scalable, and effective ways, which places them on successful career trajectories.
This passion for collaboration extends outside his industry. Dr. Moshirpour partnered with the U of C's faculty of nursing to create a platform called Ignitingale, through which software engineering and nursing students work together to solve health-related challenges.
He considers these projects his responsibility as a professor—they enable him to stay knowledgeable about the field and advance the industry while effectively communicating information and teaching skills. "I think you should transfer all the knowledge you have to inspire critical thinking and problem solving. That's why I love collaboration. People can bring problems and data, and we can apply our knowledge and find real-world solutions."
In 2023, Dr. Moshirpour changed roles, becoming a software engineering professor at the University of California, Irvine, while remaining an adjunct professor at the U of C.
He's hoping to create another collaboration—one that spans North America—connecting software engineering students to generate a technology boom heard around the world.
Awards and Distinctions
Award for Full-Time Academic Staff (Instructor), Taylor Institute for Teaching and Learning, University of Calgary (2021)
D2L Innovation Award in Teaching and Learning, Desire2Learn and the Society for Teaching and Learning in Higher Education (2021)
Software Engineering Professor of the Year Award, Schulich School of Engineering, University of Calgary (2021)
Teaching Excellence Award, Schulich School of Engineering, University of Calgary (2020; 2018)
Teaching Innovation Award, Schulich School of Engineering, University of Calgary (2020)
Graduate Educator Award, Schulich School of Engineering, University of Calgary (2019)
ASTech Award – Excellence in Science and Technology Public Awareness (as a member of the Schulich School of Engineering Education Outreach Team), Technology Alberta (2017)
Schulich Faculty Achievement Award for Teaching, University of Calgary (2016–2017)
Professional Affiliations and Activities
Strategic Advisor, Userful (2022–present)
Co-Creator, Schulich Ignite: Empowering Canada's Youth through a Digital Literacy and Adaptive Learning Framework, Natural Sciences and Engineering Research Council of Canada (2020)
Faculty Advisor, Hack Your Learning (2020–present)
Senior Member, Institute of Electrical and Electronics Engineers (2018–present)
Member, APEGA (2017–present)