2020 Community Service Award Recipient
This award is presented to an individual who has made significant improvements to a community in need through efforts in the engineering or geoscience profession.
Michael Halliwell, P.Eng.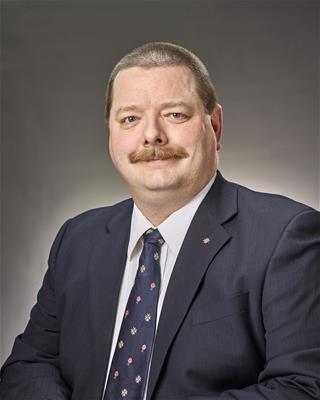 Two decades ago, environmental engineer Michael Halliwell, P.Eng., signed up for a first-aid course. He'd recently started working for Thurber Engineering at a large upgrader project and was taking on additional responsibilities in health and safety. As part of his expanded role, he needed to renew his first-aid certification.

He'd taken first-aid training before, but this one course, with St. John Ambulance, felt different: "I had an instructor who was an absolute blast." The instructor encouraged Mr. Halliwell to volunteer for the venerable organization, the roots of which reach back to 11th-century Jerusalem.

Intrigued, he became a medical first responder with the organization's volunteer Brigade (now Community Services), providing first-aid coverage at events in and around Edmonton. Since 2001, he has donated nearly 6,250 hours of event coverage, treating everything from bumps and scrapes to bigger medical emergencies. "Quite often, we're the first responders on the scene at these events," explains Mr. Halliwell.

A few years after joining St. John Ambulance, Mr. Halliwell found an additional avenue for his generosity that involved his avid love of cycling: he participated in the Enbridge Ride to Conquer Cancer. A colleague and fellow APEGA member had recently succumbed to colon cancer, and he wanted to pay his respects in a concrete way. "That first experience was very poignant because part of the route overlapped with one of the last car trips our co-worker took—he actually drove part of our course that year," he remembers. "That was a shot in the heartstrings." Since 2009, he's continued to support the fundraiser as a cyclist—raising more than $50,000—and as a volunteer on the medical and rider-safety crews.

Mr. Halliwell's charitable contributions take other forms, too. For years, he's conducted food drives and other community-service projects with his church, and he recently made his 78th whole-blood donation with Canadian Blood Services. He's also a dedicated mentor, counselling professionals in Thurber's in-house mentoring program and at Environmental Careers Organization Canada, and he supports engineering students through APEGA's University Outreach Program. Last year, he joined the board of the Canadian Association of Radon Scientists and Technologists, which educates professionals and raises public awareness about the dangers of radon exposure.

Mr. Halliwell is nonchalant about his charitable endeavours. "I didn't follow in my mother's footsteps and become a nurse, but I still use my background to help where I can."