2020 Research Excellence Award Recipient
This award is presented to an individual, team, or project that has conducted research in engineering and geoscience that has improved our economic and social well-being.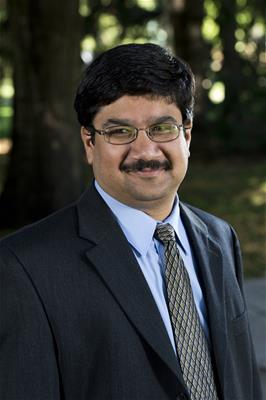 As a young man coming of age in India, Amit Kumar, P.Eng., PhD, decided to follow in his father's footsteps and become an engineer. He studied diligently, determined to attend a top engineering program one day.
His efforts paid off when he was accepted to the esteemed Indian Institute of Technology. There, he completed an undergraduate degree in energy engineering before getting a job at a cement manufacturing plant. It was a good opportunity, but one that became monotonous: "I wanted to do something new. I wanted to create or develop something," he explains. "The only way to do that was through postgraduate studies."

This decision led him to earn his master's degree in energy technology at the Asian Institute of Technology in Thailand before heading to the University of Alberta for his PhD in mechanical engineering. He considered a career in industry, but ultimately chose to stay within academia for the research freedom.

In 2005, Dr. Kumar became an assistant professor of mechanical engineering at the U of A. His chief research interest was an emerging concept of energy systems, which hadn't yet been developed in Canada. Essentially, this area of study considers the chain of energy production, conversion, transportation, and utilization, including assessment of economic and environmental impacts. The approach yields information to help government and industry make informed decisions on clean energy technologies.

Over the years, Dr. Kumar has established a large, internationally respected research program at the university. His work centres on the development of data-intensive computer models—based on fundamental science—to evaluate specific energy pathways and make predictions.

Dr. Kumar has championed the field in Alberta and internationally. As a researcher and subject matter expert, he has sat on countless policy-review panels. His research is driven by the desire to make a difference in the world: "I want to help stakeholders and society make better energy choices and make life better for coming generations."