2020 Project Achievement Award Recipient
This award is presented to an engineering or geoscience project that contributes new technologies, processes, or innovations for the improvement of society.
Sylvan Lake Regional Wastewater System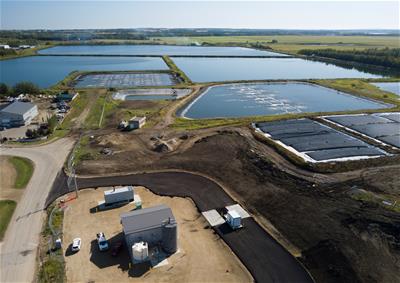 In the summer of 2016, the Sylvan Lake community faced a wastewater crisis. A combination of heavy rains and changes to federal regulations meant the lagoon-storage system, which discharges treated wastewater into Sylvan Creek, wasn't meeting environmental standards. In addition to being at capacity, the lagoons were at risk of discharging too much ammonia—which is toxic to fish—into the Red Deer River.

"They had to truck wastewater into Red Deer, which is prohibitively expensive," remembers Stephan Weninger, P.Eng., a principal with Stantec. Such extreme measures worked, but the community needed to act quickly to avoid future calamity. When the province came through with capital funding, the regional utility commission hired Stantec to fix the problem.

The solution that followed—the Sylvan Lake Regional Wastewater System—was the largest horizontal-drilling project for a wastewater system in provincial history. Its wastewater pipeline would run between Sylvan Lake and Red Deer, transporting sewage from the vibrant, lakeside community to a state-of-the-art treatment plant.

The project was fraught with technical challenges: work had to be done within an active highway right-of-way, in challenging soil conditions, and with a unique approach to wastewater-system hydraulics. The tight timelines meant the team couldn't secure land for pipeline alignments, so it had to get creative.

"Everything was accelerated, so we had to fit our new line within the existing highway right-of-way," explains Mr. Weninger. The solution? Directional drilling in the highway ditches. There were other challenges, too, such as needing to auger beneath Highway 2 and encountering a sandstone shelf right around the designed pipe depth. What's more, because the pipeline crossed a portion of Canadian Pacific's railway and a delicate wetland, the team took special precautions to avoid damaging the environment.

The system was designed, constructed, and put into service within two years of initiation, alleviating the town's wastewater concern and improving Red Deer River water quality for downstream users, Mr. Weninger revealed. "It's really a testament to the dedication of the team."

Key members involved in the project's development include:

Amy Begley, P.Eng.
Johnny Ke, P.Eng.
Liang Liu, P.Eng.
Qiguo Wang, P.Eng.
Stephan Weninger, P.Eng.
Aws Al Sammaraie