2017 Women in Engineering and Geoscience Champion Award Recipient
This award is presented to an individual, team, or organization that supports women in engineering and geoscience with diversity initiatives and inspirational support.
Jocelyn L. Grozic, P.Eng., PhD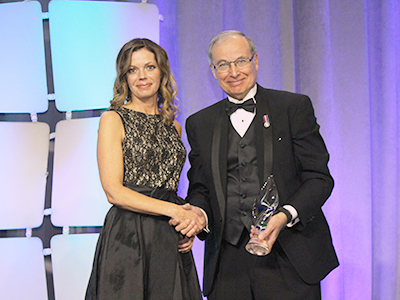 An accomplished scholar, Dr. Jocelyn L. Grozic, P.Eng., is helping create a world in which women are empowered to pursue a career of their choice and thrive in environments that were traditionally reserved for men.
In 2001, Dr. Grozic became the first female faculty member in the University of Calgary's Department of Civil Engineering, and she didn't wait long before advocating for change in the campus environment, becoming co-chair and later chair of the Gender and Diversity in Engineering Committee (GDEC) at the Schulich School of Engineering.

The GDEC strives to create an inclusive and supportive environment that recognizes and values gender and other differences in the Schulich School of Engineering. In her work with the committee, Dr. Grozic spearheaded the development of new recruitment and retention recommendations that were approved for faculty and students by the Engineering Faculty Council. Dr. Grozic also served as faculty advisor for the university's Gender Equity Project from 2003 to 2006, an initiative designed to maximize the potential of female academics.

Her contributions were recognized in 2004 when she received the APEGA Early Accomplishment Award.

A passionate advocate for women in the engineering and geoscience fields, she has educated hundreds of female students and strives to create a culture of learning that empowers women in academia and beyond. Half of her doctoral research students have been women, and she is currently mentoring female undergraduate students through the university's Sophomore Leadership Program.

Dr. Grozic puts in countless volunteer hours for initiatives such as Women in Engineering Day. Continuously setting an example of courage, encouragement, and inclusion, others are inspired to follow her lead.