2019 Outstanding Mentor Award Recipient
This award is presented to an individual who has excelled as a mentor and who have supported and contributed to their mentees' or proteges' ongoing development.
Ayodeji Jeje, P.Eng., PhD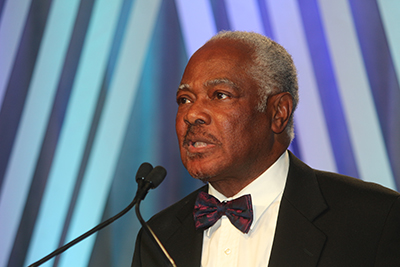 Dr. Ayodeji Jeje, P.Eng., has been teaching chemical and petroleum engineering at the university level for 44 years. During that time, he's mentored hundreds of students, cultivating in them a strong sense of initiative, an ability to find new approaches to problems, and an understanding of the great responsibility they will have as professional engineers. He has also mentored many junior academic colleagues on the art of teaching—guiding them along the same successful path he's taken. Current and former mentees point to his compassion and ability to connect on a personal level as two of his most powerful qualities.
Dr. Jeje demonstrated that kindness in a large way in 2016, when an engineering student at the University of Calgary was involved in a devastating car accident. She had only four courses left but a long and complex recovery ahead, and Dr. Jeje knew she would need to complete her degree in an unconventional way. Though not assigned as her formal mentor, he offered his assistance, visiting her in the hospital to strategize a plan of action. He brainstormed with her professors on ways she could complete classes between surgeries and write exams from her hospital bed. When one of her courses required her to be in the classroom, he joined forces with another professor to create a new, more accessible class that provided the same education. Thanks in large part to Dr. Jeje's unwavering encouragement and support, the student crossed the stage in 2018 to receive her degree.
The sign of a great mentor is being able to guide and inspire without being asked. Throughout his career, Dr. Jeje has done just that. He has influenced the lives and careers of many in and outside the classroom, moulding the professional engineers of tomorrow with a steady hand and a gentle touch.