2019 Project Achievement Award Recipient
This award is presented to an engineering or geoscience project that contributes new technologies, processes, or innovations for the improvement of society.
Red Deer Wastewater Treatment Plant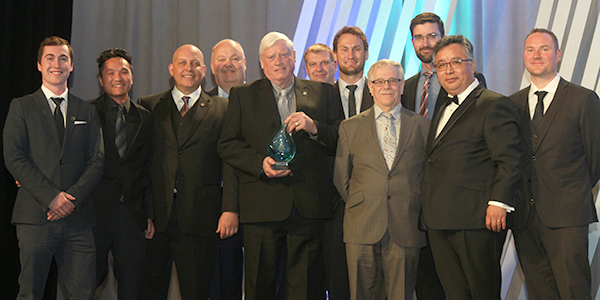 Designed by Stantec, the North Red Deer Regional Wastewater System promises a cleaner future for communities in central Alberta. The system was formed to provide central Albertans with eco-friendly and sustainable wastewater treatment while meeting proper treatment standards. It began operating in April 2018 and pumps wastewater to the state-of-the-art regional treatment plant in the city of Red Deer.
Stretching from Lacombe to Red Deer and expecting more than 50,000 residents within the next two decades, the region needed a cost-effective treatment system that could operate reliably over long distances. By analyzing each individual section of the line, Stantec determined ideal pump and pipe sizes, increasing efficiencies and decreasing costs. The project was designed to use jointless, corrosion-resistant pipe in the system's construction to ensure long-term, resilient operations.
A long journey and retention period for wastewater can create hydrogen sulfide and cause an unpleasant smell. To be proactive and to keep community front of mind, Stantec incorporated a state-of-the-art odour management facility into the project's design. The facility strips odour-causing compounds and scrubs the resulting air, removing 99 per cent of vapour odours.
Innovative strategies were also needed to protect the environment, as the wastewater system was built across rivers and wetlands. The highest risk crossing was at Blindman River: its porous riverbed meant drilling fluid could easily enter the watercourse. Stantec used trenchless technologies to bore under the river—installing a steel casing into the hole at the same time it was dug—to reduce the risk of river contamination. In addition, the company provided Alberta Environment and Parks with detailed plans for wetland boundaries that would remain untouched, as well as accident reporting and reclamation procedures.
Completed on time and under budget, the North Red Deer Regional Wastewater System combines innovative approaches and leading-edge technologies to provide a modern wastewater solution. And by protecting the sensitive watershed that supplies drinking water for dozens of communities, the system provides at least one certainty to the area—safe, clean, and sustainably sourced water.
Key members of the project's development include:
Ken Wigmore
Grant Creasey
Richard Poole
Matthew Goudy, P.Eng.
Joel Sawatzky, P.Eng.
Todd Simenson, P.Eng.
Liang Liu, P.Eng.
Stephan Weninger, P.Eng.
Johnny Ke, P.Eng.
Amy Begley, P.Eng.
Hoa Nguyen, P.Eng.