2020 Frank Spragins Technical Award Recipient
This award is presented to APEGA members recognized by their peers for their integrity, technical expertise, and outstanding accomplishments in fields relating to engineering or geoscience.
Marcelo Epstein, P.Eng., PhD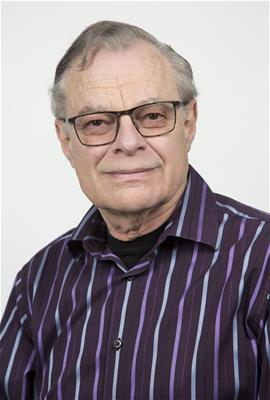 One of the rites of passage in many young people's lives as they transition into adulthood is choosing a vocation. For Marcelo Epstein, P.Eng., PhD, this moment came quickly—he'd skipped grades and graduated high school early. But the timing wasn't what made the choice difficult.

"I had inclinations for both the arts and the sciences," he shares. "So, I did what most children don't do so much these days: I asked my father." At his father's advice, he studied civil engineering at the University of Buenos Aires. He earned his undergraduate degree in 1967 and took a refinery job.

Wishing to expand his horizons, he accepted a scholarship for graduate studies at the Technion – Israel Institute of Technology. There, he earned his master's degree and PhD and accepted a faculty position as a senior lecturer. In September 1973, just days before the outbreak of the Arab-Israeli war, he boarded a plane to Detroit, where he had been offered a one-year visiting position at an industrial architecture company.

Dr. Epstein entered Canadian academia a year later via a University of Alberta postdoctoral fellowship. This fellowship opened the doors to an assistant professor position in mechanical engineering at the University of Calgary, where he has remained.

During his time at the U of C, Dr. Epstein has made important contributions in the fields of continuum mechanics and the biomechanics of soft-tissue growth and remodelling. You might describe his work as highly technical, yet he sees the divisions between disciplines as largely artificial and advocates a university education that enables areas of scholarship to blend—even between the sciences and arts.

"We've over-specialized because of technological advances, so I try to keep some sanity there," smiles Dr. Epstein, who earned a bachelor of arts in classics at the University of Calgary in 1993. For 20 years now, he's taught a humanities course called The Latin of Science, in which students study great philosophical and scientific works in Latin. He has also been a proponent of two interdisciplinary programs in humanistic engineering, a dream that has yet to be implemented.

It's now been several decades since Dr. Epstein took his father's advice, and he has no regrets. His indirect route to academia has been a natural fit for him. "It has to do with my family. We love education and believe, very innocently, that education will redeem the world."