Volunteer Profile: Sara Naveda, P.Eng., M.Sc.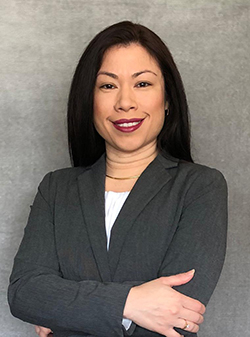 Employment Status
Full-time
APEGA
Designation: P.Eng. (2020)
Branch: Calgary
Volunteer since 2018
Education
B.Sc. in Petroleum Engineering, 2003 from La Universidad del Zulia, Venezuela
Master of Science and Engineering – Hydrocarbons Exploration and Production, 2008 from Instituto Superior de la Energia (ISE) – Spain / Heriot-Watt University – Scotland
Certificate in Professional Management – PEG (ongoing) from University of Calgary
Languages
Professional Experiences
Reservoir engineer with experience in reservoir evaluation and management and field operations.
Exploitation engineer with experience in surface and subsurface models integration to design cost effective exploitation strategies.
Process engineering for oil and gas projects.
Why volunteering is important
"Learning about our commitment to public safety is something every engineer must be aware of."
When Sara lived in Venezuela, she volunteered all the time. This has not changed since she immigrated to Canada in 2014. Not only does she lead many of the United Way initiatives at her current job, but she also volunteers with APEGA as well—and that was years before she earned her P.Eng. designation.
"Volunteering with the Practice Standards Committee was perfect for me because I wanted to get more involved with Canadian engineering practices and regulations. It gave me a lot exposure about the APEGA standards and guidelines"
What is a favourite volunteer memory?
"I could not believe the amount of detail that went into their science projects. It was amazing!"
With so many different volunteer opportunities available to APEGA members, Sara could not pass up the chance to judge the APEGA Science Olympics. While looking over all the different entries, there were two projects that really stood out to her. A team of students from Grades 6 and 7 designed a submarine to withstand a lot of pressure, and another student studied and analyzed the possible connection between diabetes and Alzheimer with mice.

"Our job was to look over the projects, ask questions about how long they researched the topics, what they learned and the practical applications about the topics they chose to study. It was fun to interact with the participants about their presentations and provide answers and feedback as well."
Interested in becoming a volunteer?
APEGA has many opportunities available for volunteering, from outreach events to statutory boards. See what's available and apply today!