The digital signature held by members of the Association of Professional Engineers and Geoscientists of Alberta (APEGA) confirms the civic identity and professional designation of its members at the time of signing. It serves as proof that the signer is in good standing and has the right to practice in the province of Alberta, in addition to ensuring the integrity of the signed documents and preventing their falsification.
APEGA Digital Signatures are administered by Notarius.Learn more about APEGA Digital Signatures and sign up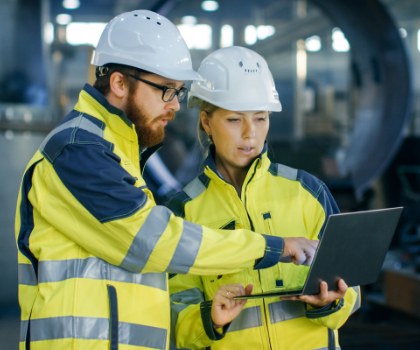 APEGA Completes Comparison of Digital Signature Providers
In response to a registrant's request, APEGA staff conducted a thorough review of APEGA's digital signature process. The analysis found that Notarius is currently the only provider to offer an efficient, cost-effective, software-as-a-subscription option that meets all requirements for an acceptable certificate authority under APEGA's Authenticating Professional Work Products practice standard. Therefore, APEGA will continue to use Notarius as its only approved vendor to issue APEGA's digital signatures.
Digital Signature Information Webinars
What is a Digital Signature?
2 CPD hours
Every second Wednesday of the month, 1:00-2:30 p.m. MDT
Going paperless is the goal, and digital signatures are the solution. Discover the advantages and benefits of a digital signature. This 90-minute presentation will include a general overview of digital signatures, general concepts, and a complete product demonstration to showcase how to use digital signatures to sign and seal electronic files.
Lastly, we will answer the most common questions related to using digital signatures in the workplace and how they can be accepted and verified by clients and government agencies.
The ABCs of Digital Signatures: Everything You Wanted to Know from Adobe to BlueBeam to ConsignO Desktop.
2 CPD hours
Every third Wednesday of the month, 1:00-2:30 p.m. MDT
One of the key challenges of a successful digital transformation is the ability to manage the workflow of documents and understand how the technology and standards function. This advanced session is designed for digital signature subscribers that have installed the required software elements, has a digital signature activated and are looking to begin using ConsignO Desktop to view, prepare and sign electronic records.
We also take this opportunity to showcase how to prepare and sign documents with Adobe Reader DC and BlueBeam Revu.
Advantages of professional digital signatures
More than 50,000 professionals currently use a digital signature in Canada. Digital identities are changing industries and are allowing professionals to digitally transform. Find out why.

Innovate faster with ConsignO Desktop
Take advantage of 20 different tutorials available that showcase the key features that can make you more efficient.



---
Other organizations using digital signatures
City of Edmonton
According to a report from the Canadian Institute for Climate Choices, the flooding, heat waves, and increased precipitation expected between now and 2050 will double the cost of maintaining buildings, roadways, and electrical infrastructure. Daryle Tilroe, Director of Engineering Services for the City of Edmonton, has experienced the digital transformation of the past few decades first-hand and graciously agreed to tell us how Edmonton is preparing itself to face the challenges to come.
Their initiative to use digital technology to make it easier to manage buildings is just the tip of the iceberg. Over the years, Edmonton has instilled a digital culture among the city's administration that goes well beyond their 'building management system'.
As an institution, Daryle explains,"Our biggest problem was the paper workflow and we ended up having to track those workflows and then what you store in the end. You need to be able to store a paper original for the regulatory authority and legal purposes. Notarius' digital signatures solved our problem by turning the paper version into a digital artifact that has the same authority. So, you can move it around. You can get it validated by another party. You can store the original digitally without using any old school paper."
DIALOG
"In 2050, there will be nearly 10 billion human beings on Earth. We will need to relocate, feed, and provide shelter to everyone while having the least impact on the environment. It is a colossal challenge." According to Jeff DiBattista, engineer and managing partner of the award-winning North American design practice DIALOG, one of the solutions to this rapid population growth lies in a holistic approach to design.
"To be able to deliver digital design to a construction site, we need technology like the solutions that Notarius provides to digitally authenticate electronic documents."
Associated Engineering
"We have been conducting business in the same way inefficiently for many years, even decades, and in some cases centuries! (...) But the time has come to modernize our industry and our built environment," says Bill Moore of Associated Engineering (AE).
AE received recognition in 2020 for its project focused on restoring Fort McMurray's forests (CCE Award of Excellence—Environment category). With more than 1,000 employees and collaborators spread across four different time zones, AE faces significant organizational challenges.
"Our people are scattered geographically all over the country and they have to authenticate documents regularly. Without Notarius, it would be a very time-consuming and labour-intensive process."
Read More about Associated Engineering and digital signatures