Volunteer Profile: Victor Benz, P.Eng.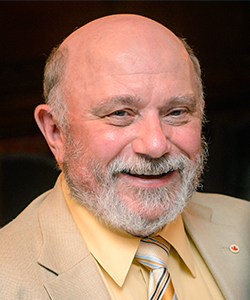 Employment Status
Retired since 2016
APEGA
Designation: P.Eng. (1978), life member
Branch: Edmonton
Volunteer since 1990
Education
B.Sc. in Chemical Engineering (1974) from the University of Alberta
Employers
Texaco
Sherritt International
Benz Consultants Ltd. (self-employed)
Volunteer Highlights
30 years volunteering for APEGA boards and committees
More than 20 years with APEGA's Appeal Board, including six years as chair
Recently nominated to Engineers Canada Board of Directors for a three-year term
How did you find your way to engineering?
Victor Benz was born in Ottawa to well-educated immigrant parents who'd become engineers by necessity. Before escaping Poland during WWII, both of Victor's parents studied at underground schools in Warsaw, which operated under the noses of the Nazis as part of a larger underground state. His mother intended to teach history and his father planned to practice medicine, but they had to leave their dreams behind when they escaped to England. "They had a major problem as neither spoke English," explains Victor.
Both pivoted to engineering, which used the universal language of math, and earned chemical engineering degrees in the UK. After immigrating to Canada, Victor's mother taught analytical chemistry as she searched for an engineering position, but his father secured an engineering position with Sherritt Gordon Mines Limited (now Sherritt International), which brought the family to Fort Saskatchewan, Alberta.
In the end, engineering was a good choice for both of his parents, especially his mother, who loved math. Victor also loved science and math, but as a young man he wasn't keen on following in his parents' footsteps, so he enrolled in honours chemistry at the University of Alberta. However, when he came across an article about the low employment rate for chemistry graduates, he made the switch to chemical engineering. "We used to get a magazine in the department called Chemistry in Canada and when I picked up the latest issue, there was a graph on the cover that showed 10 times more graduates in chemistry than jobs." It was the right choice, Victor says: "I never regretted it."
More unexpected trajectories
Victor graduated university in 1976 with plans of working anywhere but Sherritt Gordon. "I'd grown up in a company town, Fort Saskatchewan, and Sherritt was everything," he says. It also happened that his younger brother worked for the company, just as his father had, and Victor wanted to do his own thing. Straight out of school, he was hired at the Texaco refinery in Edmonton, but a few years later, Sherritt Gordon offered him a well-paying position that he couldn't turn down.
"I wouldn't have done it any other way."
Much like his switch to engineering, Victor's decision to take the job was proven to be the right choice. "One of the things Sherritt had given me was experience in many different areas," he says. Victor moved up the management ladder quickly and between 1979 and 2006, he worked in everything from production management and occupational health & safety to human resources and process engineering. When he started his consultancy in 2006, his broad knowledge served him well.
A committed volunteer
Victor began volunteering for APEGA 30 years ago, via the Investigative and Discipline Committee (which now operates as two entities). Since then, he's contributed to a wide range of boards and committees, including Enforcement Review, Outreach, the Legislative Review Champion's Collaborative, and the Appeal Board, which he's been involved with for more than 20 years.
For the last six years, Victor has served as chair and is proud of the work he's achieved with board members to add rigour to the process with the addition of procedural standards. The Appeal Board had also been holding some hearings remotely, which made the transition created by the current COVID-19 situation easier for the board.
"I believe that one of the key goals of professionals is to give back, and to give back on as wide a front as possible."
Now Victor has passed the torch to a new generation of chairs, but he remains a member of the Appeal Board and an avid volunteer. He also volunteers for Engineers Canada (he was recently nominated to join the Board of Directors and also sits on their Governance Committee) and the Alberta Fish and Game Association as Environment Chair. "I like the variety of work, the ability to bring my experience and knowledge to the table, and the opportunity to learn," he says.
Victor chalks up his long-standing interest in volunteering to his early years with the Boy Scouts, which taught him to 'Do a good deed every day.' "That resonated with me and has blossomed into the volunteering I do now," he says.
Interested in becoming a volunteer?
APEGA has many opportunities available for volunteering, from outreach events to statutory boards. See what's available and apply today!