Volunteer Profile: Frank George, P.Eng., FEC, FGC (Hon.)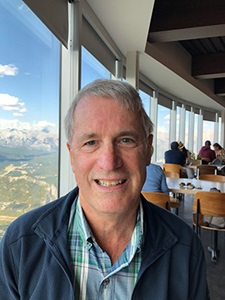 Employment Status
Retired since 2014
APEGA
Designation: P.Eng. (1978); life member
Branch: Calgary
Volunteer since 2005
Education
B.Sc. in mechanical engineering, 1976, from the University of British Columbia
Master of business administration in financial management, 1981, from the University of Calgary
Employer
Volunteer Highlights
APEGA Registration Executive Committee, vice-chair of experience (current)
Engineers Canada, Canadian Engineering Qualifications Board, vice-chair (current)
APEGA Enforcement Review Committee, chair
What led you to a career in engineering?
Growing up in North Vancouver, Frank George didn't know any engineers—nor did he have a good grasp of what engineering was. Even so, he had his sights set on engineering from a young age. "I can remember, even as a little kid, wanting to be an engineer."
It turned out to be an excellent choice. Frank did well in his courses and was eager to start his engineering career when he graduated in 1976 from the University of British Columbia. However, there were few jobs in B.C. at the time, so Frank headed to booming Alberta. "I'd worked a couple of summer jobs in oil and gas, so it was pretty easy for me to get a job," he remembers. He quickly found a position with Shell and moved to Calgary.
Sharing knowledge and learning new things
"Volunteering isn't just about giving—you get a lot too."
Like many folks, Frank found retirement a bit jarring. "It's a bit abrupt, because one day you're going 100 miles per hour and suddenly you aren't," he explains. Volunteering for APEGA eased his transition to retirement and has provided a meaningful way to spend his time.
"It keeps me more active, engaged, involved with peers, and working on things that are hopefully making things better."
Frank's volunteer career began well before his retirement. At first, he was involved with the Enforcement Review Committee (2005), which ensures only qualified and registered individuals practise engineering and geoscience and use the P.Eng. and P.Geo. titles, as per Alberta regulations. After a few years chairing that committee, he switched to the Board of Examiners, which deals with registration and professional competencies. Now, he serves on APEGA's Registration Executive Committee as vice-chair of experience.
In addition to volunteering with APEGA, Frank lends his knowledge, skills, and experience to Engineers Canada. Since 2017, Frank has served on the national organization's Canadian Engineering Qualifications Board (CEQB) as a representative of the Alberta, Northwest Territories, and Nunavut region. Earlier this year, he became vice-chair of the CEQB, and next year, he will serve as chair.
Although he insists his work isn't entirely altruistic, Frank's volunteerism is motivated by a strong sense of duty: "We have a responsibility as professionals to give back to the next generation and to the professions."
Interested in becoming a volunteer?
APEGA has many opportunities available for volunteering, from outreach events to statutory boards. See what's available and apply today!