From Venezuela to Canada: A Professional Engineer's Journey Home
Being a great engineer means following your passion, regardless of which continent you end up on. After growing up in Venezuela and training in Spain and Scotland, Sara Naveda is proud to call Calgary home.
Growing up in Venezuela, Sara Naveda says choosing to become an engineer was an easy decision. "I felt like I wanted to be an engineer ever since I was 10 years old. If you are an engineer in Venezuela, there is admiration for the work you do."

Growing up in a family of engineers also helped—Naveda's three sisters are petroleum engineers and her little brother is a mechanical engineer. The fifth sibling is the only outlier, choosing to be a medical doctor instead.

"I like numbers and I like the process of thinking like an engineer, but to be honest, my father was the one who inspired me to be an engineer. Growing up, I remember him showing me what engineers do and he instilled a deep feeling of why it's an important profession. He even gave me a helmet to wear. I just love everything about it."
Making The Dream a Reality
Naveda's father passed away when she was only 18 years old. By then, she was well on her way to making her dream of becoming an engineer come true, graduating in 2003 with a degree in petroleum engineering.
She landed her first job working as a reservoir engineer in Maracaibo North Lake Division of western Venezuela, taking custody of around 120 of the 1,200 active wells in the field. Her typical day included everything from analyzing static and dynamic subsurface properties and conditions to writing proposals for improving well productivity in the fields under development.

"We used to evaluate reservoir characteristics and fluid properties to design suitable proposals to increase production and identify new well locations to effectively drain the oil and gas reserves," explains Naveda. This included monitoring field performance and depletion plans and running economics—from writing the proposals to supervising field operations.

Recognizing her massive potential, the company assigned her to complete a master's degree in science and engineering from Repsol Training Center in Spain and Heriot-Watt University in Scotland. Her studies focused on the Orinoco Belt in southern Venezuela, one of the world's largest deposits of petroleum. The thesis she put together with her team considered every step needed to bring the oil from the ground and into the barrel.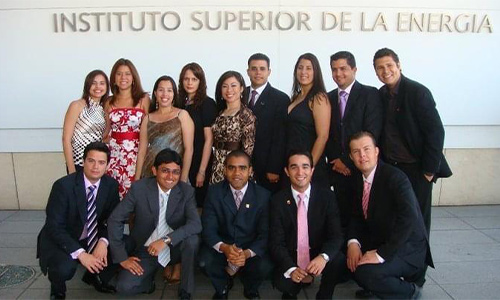 A team of 14 engineers from Venezuela travelled to Spain and Scotland in 2008 to earn their masters degrees in science and engineering from Centro Superior de Formacion Repsol—formerly called Instituto Superior de la Energia.
Shifting Focus
After completing her degree in reservoir engineering and management in 2008, she moved back to Venezuela to put her new skills into practice.

"Our company was very excited about this project. After we came back, we started to create an in-house exploitation plans department," explains Naveda.
Eventually, her focus shifted from reservoir engineering to running economics for each project. She gathered information, recommended engineering best practices, created production scenarios, analyzed risk, and generated efficiency plots, among other things.

"It was interesting to see how profitable the scenarios were and what the estimated risks would be by performing stochastic economic modelling, increasing recovery factor and minimizing costs. The challenge for me was having the surface and subsurface disciplines in agreement to ensure that we were delivering the right plan for each single well of the whole asset."
Reaching Her Goal
In 2014, after travelling and studying around the world, Naveda moved to Calgary with her husband and two daughters.

"The day we landed, November 2, 2014, the border officer checked our papers and said, 'welcome home.' That is something that I will never forget. You don't feel like an immigrant here. People always treat you with respect, and they make you feel like you belong. I love being Canadian!"

She worked in customer service for two years before becoming a provisional licensee (engineering) with APEGA. The only thing left to do to earn her professional engineering designation was complete one year of Canadian practice to demonstrate sufficient exposure to Canadian codes, standards, and ethics.
After landing a job in an entry-level position with an engineering firm in 2017, her goal was finally within reach.
Working with the firm allowed her to put her skills and passion as an engineer back to work. And just like when she was working in Venezuela, she had the full support of her colleagues. They played a key role in mentoring her about Canadian engineering practices, and a year later, she submitted the final paperwork for her P.Eng. designation.
Giving Back to the Professions
Later that same year, she volunteered as a secretary with APEGA's Practice Standards Committee. It was a win-win, learning first-hand the Canadian standards and regulations that would become second nature while earning continuing professional development hours.

"You feel rewarded when you are able to apply technical skills to find solutions. We use all the tools at our disposal to solve problems, and when you finally see that solution working or even enhancing the process, it's exciting to see! You're feeling like you're contributing to society and that is really rewarding," says Naveda.
"One of our main values as an engineer is that we foster new ideas and embrace creative approaches committing yourself to protecting the public, and that's what I love about the profession. I feel so happy that I have this background and I feel capable to do the work and at the same time continue learning."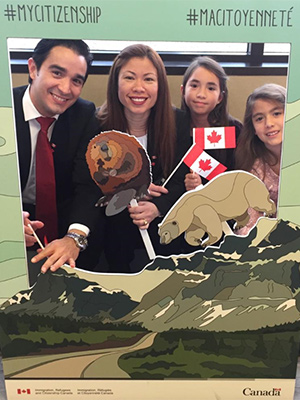 The Naveda family became Canadian citizens in 2018 and are proud to call Calgary home.
Feeling at Home
After living in Calgary for four years, Naveda knew she was home. She and her family became Canadian citizens in 2018.

"I don't have enough words to explain how special that ceremony was. It was beautiful. It's hard not to get emotional thinking about it," she says.
"I'm glad that I chose Calgary as my home. People are so welcoming here and that is something I love about this city. People say good morning and greet you with a smile on their face. You don't get that everywhere, and I want my kids to grow up and be part of a culture like that."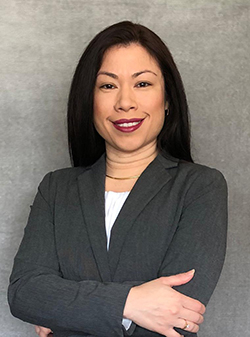 Sara Naveda, P.Eng., M.Sc.