Volunteer Profile: Nannette Ho-Covernton, P.Eng., FEC, FGC (Hon.)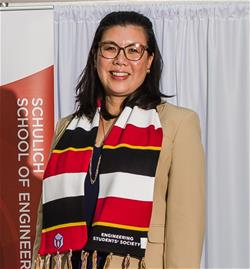 Employment Status
Sustainability leader, Spartan Controls
APEGA
Designation: P.Eng. (1989)
Branch: Calgary

Education
B.Sc. in chemical engineering from the University of Calgary (1987)
Employers
Spartan Controls
Esso
UMA Engineering
Volunteer Highlights
Vice-chair of sport production for Organizing Committee Calgary, which produces World Cup and World Championship speed-skating events
Past chair of Schulich School of Engineering – Engineering Career Centre Advisory Council
Past board member of Two Wheel View
Past section chair of the United Way of Calgary and Area's Hi-Tech Division
Ceremonies host at the Winter Olympic Games
Various APEGA committees
What led you to engineering?
"It just felt like a natural fit."
Nannette Ho-Covernton, P.Eng., was just five years old when her family left the Philippines in search of a better life. Canada seemed like a peaceful and welcoming place for the family to begin anew, and they settled in Calgary in the spring of 1971.
To Nannette, the city felt small—and very cold—in comparison to tropical Manila, with its millions of inhabitants. Three years later, the family made an even bigger change when they left city limits for the rural community of Bearspaw in Rocky View County. She and her siblings went to school in Cochrane.

Nannette thrived. She was a dedicated student and very involved in her school community. In high school, she decided to pursue engineering based on her limited knowledge of the field, mostly gleaned from talking to a cousin who'd graduated from engineering in the late 1970s. "I wanted to solve problems. I was good at math. I was good at science. That was it," she laughs.

This leap of faith paid off. At the University of Calgary, Nannette soon discovered that she'd picked the right discipline—but it was also apparent that finding a job after graduation was going to be tough.
How did you launch your engineering career during a recession?
"I thought, 'Oh shoot, what are some of the other ways I can make connections?' So I decided I'd volunteer for the Olympics."
Nannette convocated in 1987—during a recession—but she'd prepared herself as best she could. While still a student, she began volunteering with APEGA to network and make connections. In fact, over the next 13 years, she would help with student outreach, the Enforcement Committee, and the Summit Awards Committee.
An engineering job remained elusive, so she decided to expand her networking efforts by volunteering for the Winter Olympics. She found an engineering job before the big event, but decided she'd still volunteer as a ceremonies host for speed-skating events at the Olympic Oval.

It was the beginning of a 33-year volunteer career in speed skating—a sport she had no connection to before the Olympics—via Organizing Committee Calgary, which produces World Cup and World Championship speed-skating events at the Olympic Oval on behalf of Speed Skating Canada.

"I went from bringing out flowers and medals on pillows, to serving as vice-chair of sport production," says Nannette. In her current role, she oversees the production components of events, including awards ceremonies, entertainment, video, and protocol.
What does your career look like now?
"It's corny, but it warms my heart to know I'm making a difference."
For 25 years, Nannette has worked for Spartan Controls, which provides automation, valves, measurement, and process-control solutions and services to industries like oil and gas, mining, and pulp and paper.

Her current position as sustainability leader involves supporting innovation at the company—especially as it concerns environmental sustainability—by fostering collaborations with academia and industry. Nannette says the company has been committed to finding greener solutions for decades. "In total, our solutions have removed close to nine million tonnes of CO2 equivalent," she says. That's like taking about 690,000 cars off the road.

Nannette's professional work dovetails neatly with much of her volunteer work. She's involved with the Clean Resource Innovation Network, a non-profit focused on creating a sustainable energy future for Canada—something she's deeply passionate about. She has also championed diversity and inclusion in the engineering field at her workplace and as volunteer chair of the university's Engineering Career Centre. In 2019, she received the Schulich School of Engineering Alumni Award for Diversity and Inclusion.
What drives you to volunteer?
"You don't leave anyone behind."
Growing up, Nannette was the kind of kid who signed up for as many extracurriculars as she could manage—from student council and the school newspaper to working as a camp counsellor. She continued to get involved as a busy engineering student and throughout her career.

It all stems from an unwavering belief in the importance of helping others, largely instilled by her parents. Not long after the family settled in Calgary, her mother and father began helping countless family and friends establish themselves in Canada too. At one point, 20 people lived in their house.

Despite the demands of career and family, Nannette continues to contribute however she can.
"I hope more people give back to make society better," she says.
Interested in becoming a volunteer?
APEGA has many opportunities available for volunteering, from outreach events to statutory boards. See what's available and apply today!