Volunteer Profile: Robert (Bob) Rose, P.Eng.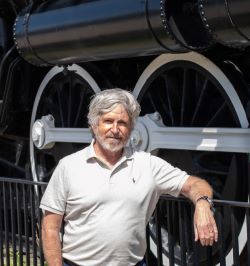 Employment Status
Retired since 2010
APEGA
Designation: P.Eng. (1974); life member
Branch: Edmonton
Volunteer since 1997
Education
B.Sc. in Electrical Engineering, 1974, from the University of Alberta
Employer
ATCO Electric (1974–2009)
Volunteer Highlights
In 2009, Robert received APEGA's Outstanding Mentor Summit Award for his commitment to mentorship. He was a founding member of ATCO Electric's engineer-in-training program and an enthusiastic volunteer with APEGA's Outreach Program.
What led you to a career in engineering?
Although his father was a chemical engineer who took him on refinery tours, Bob Rose says it was actually a gift that piqued his interest in engineering.

"My parents gave me a Philips Electronic Engineer kit that you could use to build 21 different gadgets, like a transistor radio or a music synthesizer," he says. "I built every one of them. I was in Grade 8 and that was it—I was hooked. I wanted to be an electrical engineer."

A gifted student who skipped grades in elementary, Bob graduated high school at just 16. He entered the engineering program at the University of Alberta the same year and graduated at the age of 21.
Where did your engineering career take you?
Bob worked for ATCO Electric as a summer student in 1973. "I was interested initially in telecommunications, but there were more jobs in power systems," he explains.

Over the years, he worked in many different roles, from engineering design and project management to maintenance and asset management. All the work was with transmission and distribution facilities, which serve 150 locations in northern and eastern Alberta.

Bob liked the fact that he was serving the public and enjoyed the work, but he was always clear on his priorities. "I made a decision fairly early on that a balanced lifestyle was really important to me," he says. "I wasn't willing to put in 60 hours a week to become vice-president and never see my family."
How did you start volunteering?
When his oldest son was in fifth grade, Bob was asked by the teacher to come into the classroom and help teach the electricity unit. The class and the teacher loved it—including his son, who ultimately became an electrical engineer himself—but maybe not as much as Bob, who discovered a latent teaching ability.
He eagerly signed up for APEGA's Outreach Program, which sends professional engineers to classrooms across Alberta. Since then, he's made about 300 science and engineering classroom presentations. In addition to Grade 5 electricity principals, he has taught building fundamentals to Grade 1 students, boats and buoyancy to Grade 2s, hearing and sound to Grade 3s, and electricity and magnetism to Grade 9 students. He has also taught many workshops to science teachers.
Bob's volunteer work also includes sitting on APEGA's Centennial 2020 Advisory Group and its Women in APEGA Advisory Group. He's been an avid mentor since the start of his career, when he helped ATCO Electric create a formal mentorship program for its engineers-in-training.
How are you spending your retirement?
Since retiring 10 years ago, Bob has continued to volunteer for APEGA and maintains a robust supply of demonstration equipment in his basement "science room." Over the last few years, he's been using the gear to teach seniors, as well. For six years in a row, he taught either the history of the engineering profession, or electricity and magnetism to seniors, via the Edmonton Lifelong Learners Association's summer courses at the University of Alberta.
Bob has also added a new hobby to the mix: writing. "That's a story in itself," he laughs. "I've always been interested in the idea, but after going to university and becoming an engineer, I got too busy to explore it."
For the last decade, he's been taking writing courses, attending conferences and workshops, and—of course—writing up a storm. Bob's completed works include a novel for grade nine children on what it's like to work as a professional engineer in Alberta, and a series of historical novels about a Scottish engineer hired to build the Canadian Pacific Railway's bridges in the Rocky Mountains a century ago.
Why do you continue to volunteer?
For Bob, volunteering is meaningful work. Unlike other professions—medicine, education, or law—engineering is poorly understood by society. A recent study revealed that just two per cent of Canadians have a good grasp on what engineers do.
Bob hopes his work as a volunteer—and as a writer—will bring greater awareness about the profession's many contributions to society. "I think we have to do more to communicate—maybe not boasting, but making sure people know what we do."
Interested in becoming a volunteer?
APEGA has many opportunities available for volunteering, from outreach events to statutory boards. See what's available and apply today!