Volunteer Profile: John Nicoll, P.Eng., FEC, FGC (Hon.)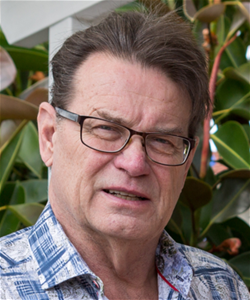 Employment Status
Retired since 2016
APEGA
Designation: P.Eng. (1976), life member
Branch: Edmonton
Volunteer since 1996
Education
B.Sc. in electrical engineering from the University of Alberta (1973)
Employers
Iron Ore Company of Canada
City of Edmonton
Edmonton Public Schools
Workers' Compensation Board
Professional Highlights
Worked on the design and construction of Edmonton's emerging Light Rail Transit system
Helped student achievement by providing quality facilities and learning environments
Served as an appeals commissioner for the Workers' Compensation Board
Community Contributions
Elected to the Edmonton Public School Board for six years
Served as chair of the Alberta School Employee Benefit Plan for three years
Volunteering for 25 years with APEGA
Elected district governor of Rotary International District 5370 for the 2022 term
What interested you in engineering as a career
Growing up in Edmonton, John Nicoll was the kind of kid who liked to MacGyver everything around him—from household appliances to broken bicycles. After a brief stint studying chemistry, John quickly transferred to the University of Alberta's Faculty of Engineering, where he focused on electrical engineering. The decision served him well: John went on to a 43-year career as an electrical engineer.
Engineering variety is the spice of life
"The learning doesn't stop when you graduate. That's part of being an engineer."
John spent the first two-and-a-half years post-graduation as a field engineer with the Iron Ore Company of Canada in Newfoundland and Labrador. After three of the coldest winters of his life, he returned to his hometown to work on the City of Edmonton's nascent Light Rail Transit system. For the next 30 years, he held a variety of engineering roles at the City in the areas of design, construction, and people management.

From there, John moved to the Edmonton Public School Board and served as the managing director of its Facilities Department, overseeing the building and maintenance of schools. During this time, he was also in charge of the district's pandemic response, as H1N1 had become a global threat. After nine years with the school board, he became an appeals commissioner for the Workers' Compensation Board.

Keys to career success
"There's satisfaction in working with people."
A talent for technical problem-solving attracted John to engineering, but the lynchpin to his success has been his strong people skills. John liked collaborating with others and honed his communication skills with every new project.
"You find out very quickly in engineering that you're not doing it yourself—you're relying on teams of people," he explains. "How well you work in teams affects how well the project works."

Merging engineering with volunteering
John's engineering career sparked an interest in public service that led to his election as an Edmonton Public School Board trustee. After six years of service, he began volunteering for APEGA, primarily for the Practice Review Committee and the Discipline Committee. "I've learnt that in the process of a hearing, you always find things you weren't expecting," he says. "It teaches you not to make snap decisions until you've heard the whole case."

John's sharp communication and leadership skills have also served him well as a member of Rotary International. Through his local chapter, the Rotary Club of Edmonton Northeast, John has raised funds for many humanitarian projects, such as buying musical instruments for an inner-city school and developing youth programs. Projects a little farther from home include building latrines in Ecuador and eradicating polio globally through the Rotary's Polio Plus project.
Recently, John was elected the district governor of Rotary International District 5370, which covers northern Alberta, northern British Columbia, northwestern Saskatchewan, Yukon, and the Northwest Territories. His term begins in 2022.

The value of volunteering
"You can make a difference. Sometimes it doesn't seem like a big thing, but it can make a substantial difference in someone's life."
For John, volunteering is a way of life—it enriches his life. He enjoys getting to know people by working together towards a common goal, and there's something uniquely satisfying about making something happen that might not otherwise come to be.

This is true for tangible things, such as building latrines, and big-picture work, such as ensuring fair disciplinary action for professional engineers and geoscientists.

"If we don't volunteer, it doesn't happen. Serving on the organization that governs us is an important service to both the professions and the public. It's part and parcel of our code of ethics: we're here to serve the public."
Interested in becoming a volunteer?
APEGA has many opportunities available for volunteering, from outreach events to statutory boards. See what's available and apply today!