Save more with your membership
Benefits of Learning with RoboGarden
RoboGarden programs and courses provide numerous benefits for students, such as getting the chance to meet industry speakers, getting certified by RoboGarden and some of the top universities in Canada, and learning online through a game-based platform with live instructor and TA sessions.
With our industry speakers, students will understand the real-life workforce and how to use the skills they have learned in order to succeed. Industry speakers will share their insights with the students about what they should expect when they finish their courses.
RoboGarden online synchronous learning experience with live instructor and teaching assistant sessions provides students with a well-rounded learning experience. Students may also ask for one-to-one sessions with our teaching staff to receive additional support with the course content.
Students will also receive 24/7 technical support from the RoboGarden team whenever they need help to understand any of the tools or the content on the platform.
Receiving a certificate is one of the benefits gained with RoboGarden, since it provides a certificate of completion for finishing the program. Upon successful completion of any bootcamps, a certificate of completion is issued by Concordia University of Edmonton.
RoboGarden stays in touch with its present and graduated students to offer them support and updates related to the industry, by informing them about new methodologies, technologies, and opportunities.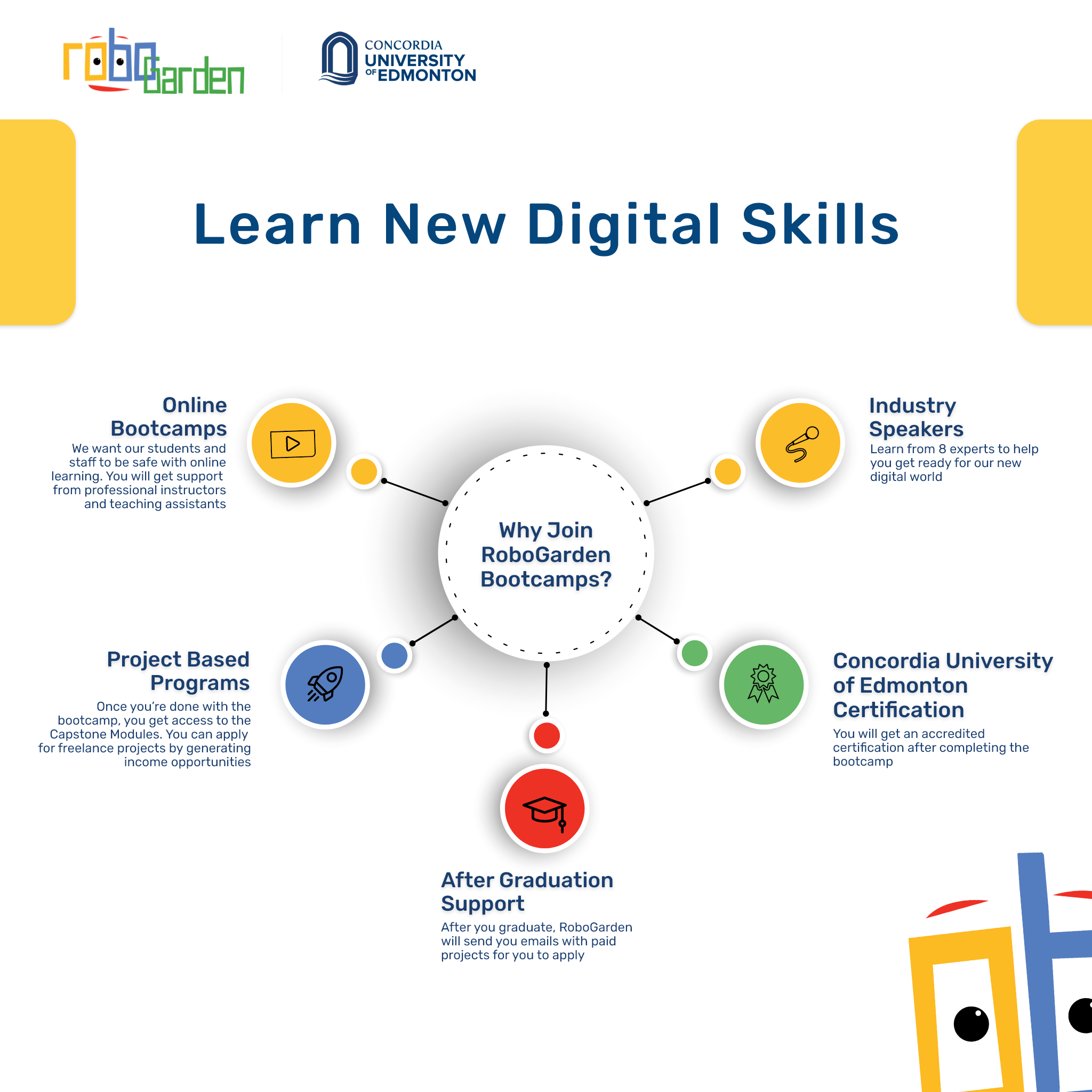 RoboGarden is an easy-to-understand game-based platform that teaches students how to code through active learning, while using artificial intelligence to develop its content. RoboGarden is based on a philosophy called "Learn to Earn", which focuses on helping students develop the digital skills needed for the growing digital economy.
What Past Students Have to Say about RoboGardens Bootcamps
"Part way through the bootcamp, I had already started hitting my goals. My experience with the curriculum, instructors, and TAs has been the best. If you are considering taking a bootcamp – JUST DO IT! You won't regret it"
Kingsley Okoro, Machine Learning & Artificial Intelligence Bootcamp Graduate
"Through this bootcamp, I have become well versed in full stack. It has enabled me to integrate my previous work skills with new digital skills that will give me a competitive edge"
Collin Knil, Full Stack Web Development Bootcamp Graduate
---
This article is being provided by APEGA on behalf of Concordia University of Edmonton (CUE) and RoboGarden which has a group sponsorship agreement with regards to online professional development courses for our members.