Women in the Workplace: A Shift in Industry Work Culture
(2018-2021 Report)
APEGA's Women in the Workplace: A Shift in Industry Work Culture report sheds a light on the top barriers women in engineering and geoscience face. It provides actionable advice that can be implemented by individuals, leaders, and organizations so we can all take part in breaking down the barriers and working towards equity and inclusion in the professions.
This project was funded through a three-year, $350,000 grant from the federal department of Women and Gender Equality Canada (WAGE) to investigate the barriers that women face in the engineering and geoscience workplace.
Free Equity, Diversity, & Inclusion Training
Take a step towards a more inclusive workplace. Book a free synchronous training session today!

Real Experiences from APEGA Members
Read by APEGA volunteers, these stories were submitted anonymously by professional engineers and professional geoscientists as part of the research for the Women in the Workplace report. These experiences are real, recent, and happening all over Alberta.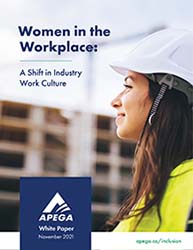 Read the full Women in the Workplace report
Learn more about the top challenges and barriers that women face in the workplace
Find out how you can improve the equality and inclusiveness of your workplace
Understand why these challenges are so important to the culture and competitiveness of your organization
APEGA recognizes there are important differences between sex and gender. Due to respondents using both terms interchangeably, for the purposes of the project and this report, we combined the terminology for sex (male and female) and gender (man and woman) to describe gender-based responses and actions.
The Top Barriers Women Face in the Workplace
In 2019, we consulted 329 members, and the weight of mentions (1557 in total) for each of the barriers that women face within the professions is represented here, from most to least.
27.8% – Traditionally masculine work environment
20.5% – Career development and advancement
17.0% – Bias, discrimination, and harassment
14.8% – Maternity and parental leave issues
9.8% – Work-life balance issues
5.5% – Perceived characteristics of women
3.0% – Societal issues
With support from the Women's Economic Recovery Challenge Grant, APEGA's Equity, Diversity, and Inclusion team is raising awareness of the top four barriers and providing free training to APEGA registrants to help them create a more inclusive workplace.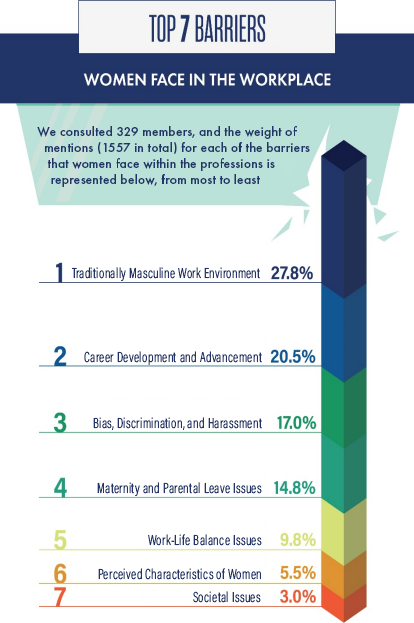 Men and women have very different views on whether gender plays a role in how they are treated in the workplace.
When asked how much gender affects a person's treatment in the workplace, 58 per cent of all respondents selected Very Much or Some. When those responses are separated by gender, 83 per cent of women selected Very Much or Some, compared to only 38 per cent of men. Conversely, 52 per cent of men said gender matters Very Little or Not at All in the workplace, whereas only 11 per cent of women said the same. Women and men respondents who selected Very Much generally agreed the top reason for gender-based discrimination was bias against women.






Career Development and Advancement
| | |
| --- | --- |
| Women are being hired at almost the same rate as men for entry-level careers. | |
| Early in their careers, women are not promoted at the same rate as men—dramatically reducing their later participation in professional and managerial roles. | |
Bias, Discrimination, and Harassment
When asked whether they have personally experienced gender-based discrimination, 59 per cent of women said yes while only 12 per cent of men did. Survey respondents across all genders most frequently cited supervisors, peers, and independent contractors or consultants as the initiators of discrimination.
Responses to Whether Employees have Faced Gender-Based Discrimination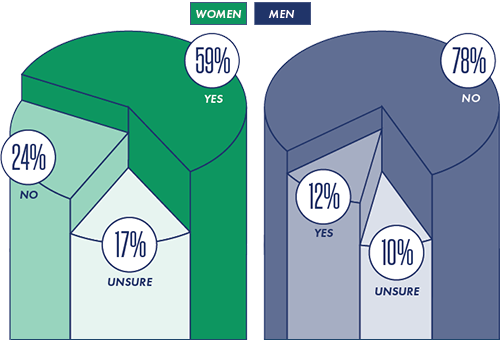 Maternity or Parental Leave
Many consultation participants (11 per cent of the total comments related to maternity and parental leave) strongly believed the issues women face pertaining to leave (i.e., inability to return to the same role, losing project leadership opportunities prior to leave, not being granted interesting work and projects after a leave, career progression and performance management implications, and difficulty transitioning back to work) would be remedied if organizations encouraged all new parents to take parental leave. They stated once organizational culture accepts parental leave as a valuable experience—and acknowledges the skill development and personal growth that occur while one is on leave—the challenges currently faced by parents would significantly decrease.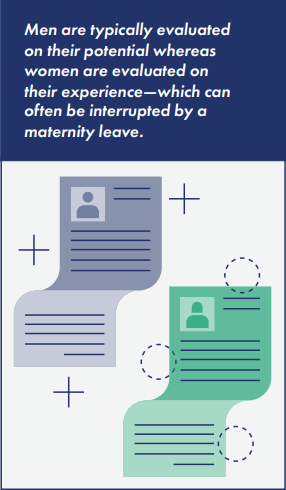 A Snapshot of the Workplace
The information above was summarized from the following sources:
APEGA (2019). Survey results on barriers women face in the engineering and geoscience workplace
Mercer (2019). When Women Thrive, Businesses Thrive: APEGA Benchmark Report
Mercer (2020). APEGA's Salary Survey Gender Pay Analysis 2014 – 2018