Save more with your membership
Seamless Multi-Device Authentication: Empowering APEGA Registrants with Cloud Signatures
After more than a decade of successful partnership with APEGA, Notarius, a Portage CyberTech company, is proud to continue contributing to the technological advancement of engineers and geoscientists in Alberta by offering its latest cloud-hosted digital signature solution: CertifiO Cloud.
"We have collaborated with APEGA in developing our tools. This solution will enable APEGA registrants to authenticate drawings and customize their seal appearances directly on a smartphone." – Marc St-Jacques, vice-president of sales and digital transformation at Notarius and Portage CyberTech.
Get Started with CertifiO Cloud
Authentication of professional work products on the fly
Thanks to this new digital signature that complies with APEGA requirements, registrants will be able to authenticate professional work products from a smartphone, tablet, computer, or any other internet-connected device.
Because the signature is hosted in an ultra-secure cloud, a registrant will no longer need to manage their .epf file or carry a USB flash drive between workstations.
The flexibility of this tool will offer APEGA professionals a high level of competitiveness in the industry, as they will be able to accelerate their processes from a construction site or even when abroad—without worrying about whether they have their work computer with them.
Accessible through ConsignO Cloud Solo, the web application included with all CertifiO Cloud subscriptions, this new APEGA digital signature will enable users to manage and configure seal appearances directly from a browser, facilitating their backup and customization processes (e.g., image overlay, size, custom text).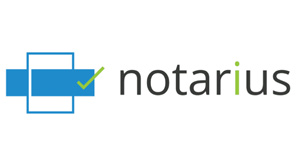 APEGA Digital Signatures are administered by Notarius.
Simplified deployment and streamlined internal-external workflows
Because these new tools are in the cloud, firms and businesses will be able to simplify their deployments without having to manage constant software updates on numerous devices. These organizations can also optimize their processes by taking advantage of the integration of ConsignO Cloud Solo with the signature cycle management platform ConsignO Cloud.
Managing signature workflows with multiple signers, such as members of other professional associations, unregulated specialists, or clients, is possible through this high-reliability signature platform—signers can sign with a professional digital signature or with a trusted two-factor authentication electronic signature.
Never before have architecture, engineering, and construction companies had such ease in managing document authentication involving numerous internal and external parties within their organization.
Digital work environment: Responsible acceleration
The digital transformation of work for engineers and geoscientists has been accelerating in recent years, particularly with the integration of building information modelling and simulation software. The introduction of CertifiO Cloud will facilitate the transition of digital signatures into these high-value-added environments.
Notarius' teams have always been committed to protecting the public during this acceleration and are excited to help APEGA registrants and the industry fulfil their obligations and benefit from these powerful new tools.