Meet the Members of the Women in APEGA Advisory Group
The Women in APEGA Advisory Group is comprised of representatives from across the province who work in academia and industry. This dedicated group meets regularly to assess APEGA's diversity initiatives and discuss other organizations' successful strategies.
Anjum Mullick, P.Eng., M.Sc.
Chair
Anjum Mullick, P.Eng., is an environmental engineer with 20 years of experience in consulting and public sector experience. She has a master's degree in environmental engineering from the University of Alberta and a bachelor's degree in civil engineering from the University of Waterloo. Currently, she is the Director of Engineering Services at the City of Edmonton.
Prior to joining the City, Anjum worked at WorleyParsons, where she developed and managed oil sands mine reclamation and closure projects, specifically focused on tailings pond reclamation. As a former member of the APEGA Environmental Committee, she has worked with industry stakeholders and government organizations to develop environmental policy and guidelines. She was also a member of the Environment and Sustainability Committee of Engineers Canada's Engineering Qualifications Board, with which she developed a national practice guideline on environmental site remediation. She is currently a member of the Alberta Environmental Appeals Board.
As a female professional engineer and a visible minority, Anjum is passionate about diversity and inclusion. She's particularly interested in increasing the number of women in not only engineering- and science-related professions, but also in leadership. She was the President of Women of WorleyParsons, an employee resource group supporting the recruitment, retention, and promotion of women in the industry. In this role, she developed and managed a joint-partnership project with the WinSETT Centre and the University of Alberta School of Business to examine organizational change as it relates to women in leadership, gender diversity, and inclusivity. She recently co-chaired the 2018 Canadian Coalition of Women in Engineering, Science, Trades, and Technology conference in Edmonton and sits as a Director on the WinSETT Board. She now leads her department's Diversity and Inclusion Committee at the City of Edmonton and chairs the Women in APEGA Advisory Group.
Vanessa Bellardinelli, P.Eng., PMP
Vice-Chair
Vanessa Bellardinelli, P.Eng., was born and raised in Ancona, Italy, where she attained her European master's degree in environmental and geotechnical engineering. For 15 years, she worked as a geotechnical engineer for some of the biggest engineering consulting firms in Italy, the United Kingdom, and Australia, working on major infrastructure projects before moving to Canada in 2013 to work in the oil sands industry.
She enjoys looking at the big picture, approaching problems from a different and non-technical perspective, and communicating. Therefore in 2015, she decided to steer her career towards project management and attained the Project Management Professional (PMP) and LEED Green Associate certifications. She has since managed multimillion-dollar projects for a variety of clients in the private and public sectors. She is currently a project manager for the City of Calgary.
Vanessa has always been passionate about diversity, inclusion, and gender equality. In 2016, she was one of the recipients of the APEGA Women in Engineering and Geoscience Champion Summit Award. As well as being focused on her profession and her family, in her spare time Vanessa is a blogger, a vlogger and a writer—she has recently published her first illustrated children's book about climate change and migration.
Vanessa assumed the role of Vice-Chair of the Women in APEGA Advisory Group in 2018.
Kim Tulloch, P.Eng., MBA, PMP
Scribe
Kim Tulloch has more than 20 years of experience working in Natural Gas Liquids, Gas and Oil Sands businesses. She has held a variety of roles in engineering, operations management, Human Systems Engineering, major projects, and joint-venture management. She has a bachelor's degree in chemical engineering from the University of Alberta and an MBA from the University of Windsor. She is an accredited PMP and Prosci Change Management Practitioner.
Having been involved with the Women in APEGA Advisory Committee since 2013 and part of the APEGA Mentoring Program, Kim is a strong supporter of increasing the engagement and retention of women—and girls—in engineering and geoscience.
This past hockey season, she took on the role of Team Manager for her son's novice team—which is a whole other level of challenge!
Laleh Behjat, P.Eng., Ph.D.
Member-at-Large
Dr. Laleh Behjat is a professor at the Department of Electrical and Computer Engineering at the University of Calgary, Canada and the NSERC Chair for Women in Science and Engineering (Prairie Region). Her research focuses on developing mathematical techniques and software tools for automating the design of digital integrated circuits. She has won several awards for her work including the 1stplace in International Symposium on Physical Design Placement contest, and Schulich School of Engineering Research Productivity Award. Dr. Behjat acted as an academic advisor for of Google Technical Development Guide and was a member of the Google's Council on Computer Science Education. She is an Associate Editor of the IEEE Transactions on Computer-Aided Design of Integrated Circuits, ACM Transactions on Design Automation of Electronic Systems, and Optimization in Engineering from Springer.
Dr. Behjat is passionate about increasing the status of women in science, technology, engineering and mathematics (STEM). She was the recipient of the 2015 Association of Professional Engineers and Geoscientists of Alberta (APEGA) Women in Engineering Champion Award, Association of Computing Machinery, Special Interest Group in Design Automation Service Award in 2014 and 2017 and 2017 Killam Graduate Student Supervision and Mentorship Award. Her team, Schulich Engineering Outreach Team, was also the recipient of the ASTech Leadership Excellence in Science and Technology Public Awareness Award in 2017.
Alicia Bjarnason, P.Geol., MA, CCIP
Member-at-Large
Alicia Bjarnason, P.Geol., is passionate about enhancing innovative thought within the energy sector in Alberta. After 15 years as an exploration geoscientist, she returned to school and received a master's degree in human geography with a focus on corporate culture, diversity, and inclusion. She won multiple awards during her time as a graduate student, including a Queen Elizabeth Scholarship and an Alberta Graduate Citizenship Award.
Alicia has been a member and volunteer of the not-for-profit Alberta Women's Science Network (AWSN) since 2013. AWSN is an umbrella organization that supports science, technology, engineering, and math (STEM) programming in Alberta with a focus on recruiting, retaining, and recognizing populations that are under-represented in STEM. She has held the positions of Member-at-Large, Vice-President, Co-President, and is now the President of AWSN.
In 2015, Alicia secured a three-year Status of Women Canada grant for AWSN and initiated the organization's Work Re-Engagement program. The program investigated the struggles women professionals in STEM fields have when re-engaging into the workforce after an extended leave. It created a document to support this demographic on the journey back to employment, as well as leading practices for STEM companies to use—including on-ramping strategies—as they navigate the topics of diversity and inclusion. She continues to lead the greater team and initiative as the Program Director.
Additionally, Alicia is active in the greater STEM community, including as an Advisor for the Women in APEGA Advisory Group and an Executive Mentor for the Operation Minerva Program, a one-day job-shadowing program for Grade 8 girls with female STEM mentors.
She is a proud mother of two elementary-aged children, and she enjoys teaching geology in their classrooms and securing science-based programming for their school.
Erin Davis
Member-at-Large
Erin Davis is a connector, change-maker, and builder of inclusive workplace cultures. She continues to follow her passion on building workplaces that work for women and recently accepted the role of director, corporate engagement, Western Canada, with Catalyst. Previously, Erin was the director, global total engagement at Stantec, and lead their global inclusion strategy.

Erin was honoured to receive the Canadian Centre for Diversity and Inclusion Award as D&I Practitioner of the Year in Western Canada, as well as the Catalyst Canada Honours Award in the Emerging Leader category for her work in the diversity and inclusion space in 2018. Outside her organization, she is the chair of the Edmonton Business Diversity Network and a founding member of Works for Women, a group that is committed to sparking dialogue, building awareness, and inspiring action when it comes to women in leadership. She's also a founder of the C-Retreat, a boutique-style conference that brings together professional women leaders to conquer challenges, cultivate change, and create community.

Erin is a visionary who is exceptional at turning ideas into reality, helping people out of their comfort zones, and getting 25 hours of living into every 24 hours. She lives in Edmonton with her two amazing children and teaches them about a world where inclusion truly matters.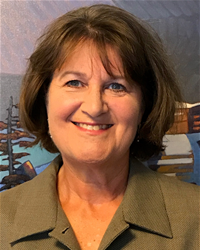 Heather Kennedy, P.Eng., FCAE
Member-at-Large
Heather is proud to have been an engineer for more than 40 years. She believes that creating the right climate for young women to see engineering for the world changing career that it can be and supporting women engineers as they embark on and have rewarding careers will make the engineering and geoscience field and our country better.
Heather has had a diverse career in the resource sector with executive roles at Suncor Energy, Alberta Energy Regulator part-time Hearing Commissioner and an extended secondment to the Government of Alberta. Heather has contributed to many not for profit and community based organizations over the past 30 years.
Erin Leonty (she/her)
Member-at-Large
Erin Leonty is passionate about promoting workplace inclusion, which leads to better business results and healthier communities.
As Global Manager of Inclusion & Diversity at Finning International, Erin is responsible for leading the implementation of an ambitious, multi-year strategy to embed inclusion into all that they do at Finning.
Born and raised in Alberta, Erin graduated from the University of Alberta's School of Business with a bachelor of commerce degree in finance. Prior to Finning, she was the Regional Director for Catalyst, a global research and advisory organization with a mission to accelerate progress for women through workplace inclusion. She started her career financing heavy equipment with General Electric and went on to provide strategy and operational consulting services as a manager with Deloitte.
Throughout her career, Erin has actively promoted inclusion in the workplace as a volunteer, including co-leading the GE Women's Network, serving on Deloitte's Diversity Council, co-founding the Edmonton Business Diversity Network, and serving on the Women in APEGA Advisory Committee.
She is the proud mother of two young daughters—Ava, six, and Zoe, four. As such, Erin is eternally grateful to her partner, Eric Leonty, for sharing equally in household responsibilities and championing her career ambitions, setting a strong example for the type of partnership our children deserve.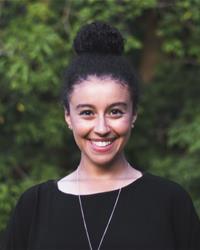 Rana Mandour, EIT
Member-at-Large
Rana Mandour attained her B.Sc. in Civil Engineering with an Environmental Engineering option from the University of Alberta in 2018. She is currently a Project Engineer-in-Training for the Solid Waste Management Practice at Tetra Tech in Edmonton.
Rana values her community. She takes on organization and leadership roles at work, and through volunteering. One example is her past roles at DiscoverE: a student-led initiative at the University of Alberta's Faculty of Engineering that delivers STEM-focused classroom workshops, clubs and events, and summer camps across Western Canada and the Northwest Territories. DiscoverE kick-started her interest and passion for increasing the number of girls and women in STEM. Since then, Rana's goal has been to continue normalizing having women and girls in STEM fields, and to be someone who can share her experiences and provide mentorship to others as she was fortunate enough to have that opportunity herself.
Cathy Ryan, P.Geol., P.Eng., PhD
Member-at-Large
Dr. Cathy Ryan is currently the Associate Dean of Research and Graduate Education in the Faculty of Science at the University of Calgary, where she has been a geoscience faculty member since 1997. She holds a bachelor's degree (1984) in geological engineering from Queen's University and a master's degree (1987) and doctoral degree (1994) in earth sciences from the University of Waterloo. She has received community and environmental awards, including:
Excellence in Service, Department of Geoscience, University of Calgary, 2019
Peak Scholar, University of Calgary, 2018
Community Outreach Award, Faculty of Science, 2011
Individual Environmental Achievement, City of Calgary, 2008
She has authored more than 60 peer-reviewed research publications and holds the method patent for a passive gas diffusion sampler.
Dr. Ryan's key areas of research include the fate and transport of free-phase gases in the subsurface, groundwater-surface water interaction and water quality, and agricultural impacts on groundwater.
Anna Salim, P.Eng.
Member-at-Large
Anna Salim obtained her bachelor's degree in electrical engineering from the University of Alberta in 2011. She has eight years of experience in the electrical utility industry, with a focus on the planning, design, and operation of electrical distribution facilities. Currently, she is a Senior Engineer at ATCO.
Anna is passionate about increasing the numbers of women in science and engineering. She co-founded an employee resource group at ATCO with the aim of inspiring and developing female engineers at the organization. She is also enthusiastic about introducing students to careers in engineering. Since 2015, she has been an outreach volunteer with APEGA and has been involved in presentations to high school students about careers in engineering and organizing APEGA's Science Olympics events
Susan Urra, P.Eng.
Member-at-Large
Susan Urra, P.Eng., was born and raised in Chile, where she graduated at the top of her class as an industrial engineer. After working for four years at one of the biggest manufacturing companies in her country, she decided to move to Canada to pursue her MBA, which led to a permanent stay and a new career path in the oil and gas industry.
After 13 years in the oil and gas industry as a subject matter expert in risk management and project controls, Susan moved to the public sector. She is currently supervising the development of asset maintenance planning and business performance with the City of Edmonton's Parks and Roads Services branch.
Susan has contributed to her profession as a mentor for female engineers with APEGA and the Edmonton Region Immigrant Employment Council. She was also the Program Chair and a presenter at the 2018 Women in Engineering Summit.