Meet the Members of the Women in APEGA Advisory Group
The Women in APEGA Advisory Group comprises representatives from across the province who work in academia and industry. This dedicated group meets regularly to assess APEGA's diversity initiatives and discuss other organizations' successful strategies.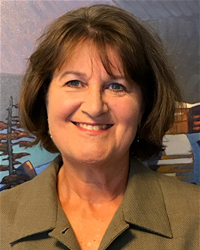 Heather Kennedy, P.Eng., FCAE
Chair
Heather Kennedy is proud to have been an engineer for more than 40 years. She believes that creating the right climate for young women to see engineering for the world-changing career that it can be and supporting women engineers as they embark on and have rewarding careers will make the engineering and geoscience field and our country better. Like many of us, she is learning about diversity and inclusion and how to be a better leader, partner, and global citizen.
Heather has had a diverse career in the resource sector with executive roles at Suncor Energy and the Alberta Energy Regulator and an extended secondment to the Government of Alberta. Heather is currently a corporate director and continues to contribute to not-for-profit and community-based organizations, as she has done for the past 30 years.
Marie-Christine (MC) Bouchard, P.Eng.
Member-at-Large
Marie-Christine (MC) Bouchard has more than 20 years of technical and management experience in the energy sector. She has held leadership roles in operations, engineering and health, and safety and environmental management in the midstream at Imperial Oil in Canada and ExxonMobil in the US. Prior to her roles in the midstream, she managed remediation and reclamation activities in the downstream part of their business.
She is now focused on applying her knowledge and experience to contribute to the sustainability agenda and is eager to promote Alberta's environmental, social, and governance (ESG) reputation in her role as assistant deputy minister with the Government of Alberta's ESG Secretariat.
MC received a B.Eng. in fuels and materials engineering from the Royal Military College of Canada and a master's in environmental engineering from the University of Alberta. She served her country as an aircraft maintenance officer in the Canadian Armed Forces at the beginning of her career. Her motto is "Be fearless and stay humble."
Courtney Brown, P.Eng.
Member-at-Large
Courtney Brown has a decade of diverse energy experience, including managing emissions and offsets, coordinating the implementation and governance of methane and non-GHG compliance and reduction, and managing facility projects with increasing complexity and responsibility across Western Canada for conventional and oilsands assets. She has a B.Sc. in materials engineering from the University of Alberta and is working on two certificates, one in climate change policy and practice and one in renewable energy technologies.
Courtney has been an active supporter of women in STEM and leadership for nearly 15 years, volunteering in various capacities for organizations such as APEGA, DiscoverE, Husky Energy's WLN (Women's Leadership Network), Technovation, and WISEST (Women in Scholarship, Engineering, Science, and Technology). She is excited to join the advisory group to share her passion for the encouragement and empowerment of women in STEM.
Laurel Flanagan, P.Eng.
Member-at-Large
Laurel Flanagan completed her undergraduate degree in civil engineering at the University of Alberta in 2017. She is currently a transportation engineer at McElhanney in Calgary. She has experience in transportation planning, traffic engineering, and road safety projects. Laurel is excited about the opportunities in the transportation engineering field to increase equity and design systems that are safe and accessible for everyone.
She also volunteers on the Women of ITE Subcommittee within the Institute of Transportation Engineers, which seeks to make it easier to talk about gender inclusion, provide recommendations to the ITE organization regarding diversity and inclusion, and identify ways that gender inclusion can be achieved through design of infrastructure. As part of this work, Laurel contributes to monthly blog posts that explore topics related to gender and transportation.
Laurel is passionate about increasing the number of women in engineering and geoscience to bring forward more diverse perspectives and contribute to the development of creative solutions to problems. She believes that a more diverse workforce in science, technology, engineering, and math (STEM) fields is essential to ensure that the diverse perspectives and needs of various groups in society are considered in the design and implementation of technologies, public space, infrastructure, and services.
Jocelyn Keith-Asante, P.Geol., PMP
Member-at-Large
Jocelyn Keith-Asante holds a B.Sc. in geology from the University of Calgary and is a PMI-certified project manager. She is currently a consultant petroleum geologist with her own company, ARTIS GeoConsult, and a project manager. She worked for 10 years as a geological lab technologist and lab supervisor; taught jazz, ballet, and fitness; loved, trained, and showed Arabian horses; and spent 30 years working as a petroleum geologist exploring for and developing both conventional and unconventional reservoirs in small and large companies.
She volunteered in Calgary public schools, drove special needs school children, is working to dismantle racism, and served on the Anti-Racism Education Resources Committee, Diversity Calgary. She also volunteers with the UCC Refugee Sponsorship Committee, served on the Board of Directors, UCC, lobbied Alberta Health Services to improve women's health, served on the Canadian Gas Potential Committee, volunteered for the Canadian Society of Petroleum Geologists (CSPG) as a Student Industry Field Trip (SIFT) committee member, then SIFT chair, served as registrar for the CSPG/Society for Sedimentary Geology Convention, and co-founded GeoWomen—a CSPG committee.
Jocelyn loves to map. One of her favourite quotes is "Beneath all the wealth of detail in a geological map lies an elegant, orderly simplicity." —Tuzo Wilson.
Jocelyn is passionate about advocating for inclusive and diverse organizations. Diversity, equity, and inclusivity allow non-profit organizations to be more effective, and for-profit organizations to make more money.
Jocelyn is honoured to have received a YWCA Woman of Distinction Award Nomination for Community Service, CSPG Tracks and Service Awards, an Alberta Women's Science Network Recognition Award and Minerva Mentoring Award, and a Shell Innovation Challenge Top Ten Award for her entry Use All the Data. She is the principal or co-author of eight oral and poster presentations and papers.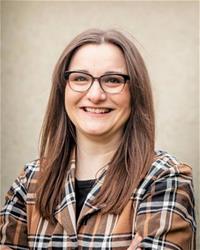 Nancy Manchak, P.Eng.
Member-at-Large
Nancy Manchak has diverse energy sector work experience in project management, pipeline integrity, and operations. She has a B.Sc. in materials engineering from the University of Alberta and a master of earth and energy resources leadership from Queen's University. Her master's research focused on the evolution of social licence and stakeholder engagement in the Canadian oil and natural gas sectors.
With more than twelve years of volunteer leadership experience, Nancy is passionate about building community, whether that be in her profession as an engineer, with her alma mater, or through advancing diversity and inclusion in the STEM fields. Nancy is a publicly elected University of Alberta senator and advisory board member for WISEST (Women in Scholarship, Engineering, Science, and Technology).
She also volunteers with her community league, the 2022 International Pipeline Conference Organizing Committee, and YPAC (Young Pipeliners Association of Canada). Nancy previously volunteered on the leadership committee for the Enbridge FEMINEN (Females in Engineering) Employee Resource Group, where she supported the organization's growth beyond the Edmonton region. As a member of the Women in APEGA Advisory Group, Nancy is looking forward to advancing initiatives to attract, engage, and retain women in the engineering and geoscience professions.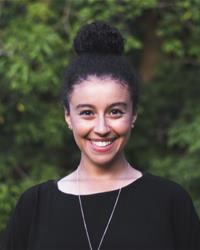 Rana Mandour, P.Eng.
Member-at-Large
Rana Mandour attained her B.Sc. in civil engineering with an environmental engineering option from the University of Alberta in 2018. She is currently a project engineer for the Solid Waste Management Practice at Tetra Tech in Edmonton.
Rana values her community. She takes on organization and leadership roles at work and through volunteering. One example is her past roles at DiscoverE: a student-led initiative at the University of Alberta's Faculty of Engineering that delivers STEM-focused classroom workshops, clubs, events, and summer camps across Western Canada and the Northwest Territories. DiscoverE kick-started her interest and passion for increasing the number of girls and women in STEM. Since then, Rana's goal has been to continue normalizing having women and girls in STEM fields, and to be someone who can share her experiences and provide mentorship to others as she was fortunate enough to have that opportunity herself.
Jeff Pieper, P.Eng.
Member-at-Large
Jeff Pieper has degrees from Queen's University and the University of California at Berkeley, all in mechanical engineering. His work in industry includes implementation of control with Alcan Aluminum, National Research Council Flight Research Lab, Computing Devices Canada, and New Energy. His research surrounds application, development, and theory of control for machining systems, autonomous vehicles, helicopters, magnetic bearings, renewable energy, wind and water turbines, and biomedical devices.
A member of the Canadian Engineering Accreditation Board, he currently chairs the Engineering Design Task Force and the Engineers Canada Committee on 30 by 30 and EDI in Accreditation. He is associate editor of the Journal of the Franklin Institute, ISA Transactions, and the CSME Transactions and is a member of the Discipline Committee of APEGA, responsible for adjudicating malpractice issues across Alberta. Jeff has won professor of the year, teaching excellence, graduate teaching, and service excellence awards. He is a Fellow of Engineers Canada. He is currently associate dean of continuing professional development in the Schulich School of Engineering at the University of Calgary. In Calgary, he led, developed, and implemented the Mechatronics Minor program, which has passed its 20th year of graduating students.
Connor Scheu, P.Eng. (he/him)
Member-at-Large
Connor Scheu is a renewable energy engineer who has experience with energy transition and international development projects across six continents.
Connor is a Métis engineer and member of the Engineers Canada Indigenous Advisory Committee (formerly the Equitable Participation in Engineering Committee). Connor is a passionate champion of allyship and intersectionality within professional inclusion initiatives. Connor strives to support inclusion at the workplace, provincial, and national levels. His hope is to help engineers take a leadership role and leverage their ethic of societal service to advance gender parity on all fronts.
In his free time, Connor can be found teaching karate to youth and families at the local community centre or hiking with his dogs in the mountains.
Mandy Williams, P.Geol.
Member-at-Large
Mandy Williams has worked as a geologist since graduating from the University of Alberta in 2004. She currently sits on the board of the Alberta Women's Science Network and in 2014, she co-founded GeoWomen of Calgary, an organization committed to advancing women working in the geoscience professions in Calgary. In 2022, she was featured in an ePEG article, A Blocked Pipeline to Success: Changing the Female Geoscientist Experience.
Mandy is a senior-level geologist in the oil and gas industry with expertise in both clastic and carbonate exploration and development. Her experience covers conventional and unconventional reservoirs within the Western Canadian Sedimentary Basin and the Williston Basin.
Erin Davis
Member-at-Large
Erin Davis is an award-winning expert, inspirational speaker, and global thought leader in the field of diversity, equity, and inclusion, helping people feel a sense of connection and belonging.
She is the founder of Erin Davis Co. and as lead inclusion strategist, she helps leaders understand their role in creating a more inclusive workplace to unlock creativity and enhance innovation. Erin also empowers diversity and inclusion champions at all levels to find their voice and supports their journey to create a more inclusive world, one conversation at a time. She is a passionate social justice advocate committed to authentically and bravely challenging the status quo and helping others to make the same commitment.
Erin serves as the co-chair of the Edmonton Business Diversity Network, a group of companies and organizations who are interested in advancing and shaping the diversity and inclusion environment in the Edmonton region. In addition, she supported the City of Edmonton's Community Safety and Well-Being Task Force to develop recommendations to address racism, discrimination, excessive use of force, poverty, and homelessness in the City of Edmonton, and she currently serves as a director with both McMan Youth, Family and Community Services Association and Explore Edmonton.
She currently lives in Treaty 6 Territory, Region 4 of the Métis Nation of Alberta, in Edmonton with her husband and two amazing children, where they both work to teach them about a world where inclusion truly matters.
Erin Leonty (she/her)
Member-at-Large
Erin Leonty is passionate about promoting workplace inclusion, which leads to better business results and healthier communities.
As global manager of inclusion & diversity at Finning International, Erin is responsible for leading the implementation of an ambitious, multi-year strategy to embed inclusion into all that they do at Finning.
Born and raised in Alberta, Erin graduated from the University of Alberta's School of Business with a bachelor of commerce degree in finance. Prior to Finning, she was the regional director for Catalyst, a global research and advisory organization with a mission to accelerate progress for women through workplace inclusion. She started her career financing heavy equipment with General Electric and went on to provide strategy and operational consulting services as a manager with Deloitte.
Throughout her career, Erin has actively promoted inclusion in the workplace as a volunteer, including co-leading the GE Women's Network, serving on Deloitte's Diversity Council, co-founding the Edmonton Business Diversity Network, and serving on the Women in APEGA Advisory Committee.
She is the proud mother of two young daughters—Ava, 6, and Zoe, 4. As such, Erin is eternally grateful to her partner, Eric Leonty, for sharing equally in household responsibilities and championing her career ambitions, setting a strong example for the type of partnership our children deserve.