Volunteer Profile: Heather Campbell, P.Eng., LLM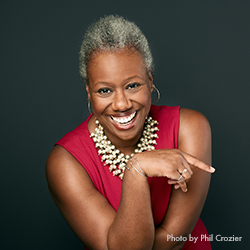 Employment Status
Executive Director, Clean Technology, Alberta Innovates
APEGA
Designation: P.Eng. (2000)
Branch: Calgary

Education
Master of laws in energy law and policy from University of Dundee (2015)
Bachelor of engineering science in chemical and biochemical engineering from the University of Western Ontario (1996)
Employers
TC Energy Corporation (2020-present)
Alberta Electric System Operator (2017–2019)
Sustainable Development Technology Canada (2014–2017)
Enthalpic Strategies (2013-2014)
ICF International (2012-2013)
ARC Resources (2009–2011)
NOVA Chemicals (1996–2009)
Community Leadership Highlights
Member, Calgary Police Commission (2020-present)
Co-Chair, Alberta Anti-Racism Advisory Council (2019–2021)
Member, Board of Directors, Arts Commons (2015–present)
Member, Advisory Council, Faculty of Engineering, Western University (2015–present)
People's Warden, St. Stephen's Anglican Church (2020-present)
What led you to engineering?
"I understood the realm of engineering and the possibilities."
Heather Campbell, P.Eng., was born in Montreal, Que., but spent most of her youth in Burlington, Ont. Like many engineers, she was a good student and showed an aptitude for math and science early on. In fact, she had a good grasp of the profession long before university.

"My father was a chemical technologist by profession with a major energy company, so I knew engineers—they came for dinner," she says. She also had plenty of engineers in her extended family, including a second cousin who worked for Duracell. "But I'm still the only woman," she says.

She liked that engineering would allow her to use her skills in math and science to solve important, practical problems. "I didn't want to be a scientist, I wanted to use science," she says. "And I didn't want to be a mathematician, I wanted to use math."

But Heather says her early knowledge of engineering wasn't just helpful—it was necessary. While some people stumble into their careers, her career path has been the product of a series of very deliberate decisions and hard work. "As a Black woman, I don't think I would've had the privilege to let fate take a hand in my career."

In fact, her parents worked hard to give Heather and her brother every advantage they could, knowing the systemic racism their children would face as people of colour. Although it meant fastidious budgeting, Heather danced and played the clarinet throughout her childhood, as her parents wanted both of their children to have a broad education that included the arts. She recalls how her mother, a nurse in orthopedics and general surgery, would often go above and beyond to create opportunities for her children, like the time she queued up in the cold for hours to register Heather's brother in French immersion. "My parents were not common people," she says. "They were exceptional."

So, with the encouragement of her parents, Heather set off for the University of Western Ontario in the early 1990s to study engineering, with a focus on chemical and biochemical engineering. Afterwards, she launched her engineering career at a large chemical company—NOVA Chemicals—which brought her to Red Deer in 1999 and then Calgary in 2005, where she remains today. These days, she's putting her master of laws degree—which she earned in 2015—to good use as the team lead of the legal registry: "I basically spend my day interpreting legal requirements for engineering."
What drives your community work and advocacy?
"I don't volunteer and do things just for the sake of the 'volunteer credit.'"
At the end of a long workday, many of us are content to put our feet up and zone out to Netflix. While Heather insists she's a pretty serious TV-watcher herself, she gives a ton of her time and energy to community organizations and initiatives.

Arts Commons, a performing arts centre in Calgary, is one of her longest-standing commitments. Since 2015, she's served on the organization's board of directors and, more recently, she's been a member of its building committee. "It's accessible and open, and the kind of place my parents would've sent me to," she says.

Heather is also an anti-racism advocate and recently finished a two-year term as co-chair of the Alberta Anti-Racism Advisory Council, which was created in response to the province's Taking Action Against Racism plan, released in 2018. Earlier this winter, Heather was appointed a member of the Calgary Police Commission, which provides civilian oversight and governance of the Calgary Police Service.

In addition to this, Heather contributes to her alma mater as an advisor to the University of Western Ontario's engineering faculty and holds a leadership role with her faith community, St. Stephen's Anglican Church.

It's a full plate, but Heather says every one of her commitments are at the core of who she is. "Without them, I wouldn't be a happy woman because they also bring me joy," she says. At the same time, she's motivated by a sense of responsibility: "I think there's a little bit of, 'If not me, who?'"

Heather says her professional background has proven helpful to her volunteering roles. When the COVID-19 lockdown happened last March, she put her analytical thinking and planning skills to work to help shut down operations at her church practically overnight. Months later, she helped develop a re-entry plan and ensure the church followed provincial safety regulations.

At the same time, volunteering helps her hone skills for her professional life. "It gives me an opportunity to flesh out my leadership capacity and strategic thinking, my ability to engage with others," she says. "All of those things you may want to do at work but don't have the opportunity."
Interested in becoming a volunteer?
APEGA has many opportunities available for volunteering, from outreach events to statutory boards. See what's available and apply today!