Your Membership Dollars at Work
Have you ever wondered how your membership dollars support engineering and geoscience in Alberta? Your annual dues not only allow you to practise, but they also support APEGA's regulatory work, which ensures the protection of the public and the sustainability of the professions.
Your member dues enable the continued integrity and sustainability of the self-regulation of the engineering and geoscience professions in Alberta.
Read more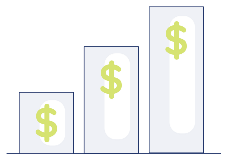 How your annual dues are allocated
Membership annual dues: $446
53% Regulatory

23%

Compliance, standards, and enforcement
Actions by statutory boards and committees; compliance and enforcement of professional standards; and legislative and regulatory requirements

14%

IT systems
Membership data security, network security, and myAPEGA portal

8%

New member registration
Application review, processing, and administration

3%

Examinations
Administration and management of exams

3%

Governance
Governance representing the highest standards of knowledge and experience, facilitated by management and support staff; reports for annual general meetings, and Council relations and election

2%

Career development
Ongoing professional development opportunities to support members in fulfilling their continuing professional development requirement
24% Corporate Services
Facilities management, accounting services, and management of secure financial transactions for member security
8% Capital Expenditures
Acquisition, upgrade, and maintenance costs for assets, including myAPEGA improvements
7% Professional Sustainability
Growing awareness of the professions and APEGA through K-12 and university initiatives, as well as educating members on equity, diversity, and inclusion challenges and opportunities within the professions
6% Communication
Conveying regulatory information to licensed professionals, permit holders, and other stakeholders; government and public relations; and partnership initiatives
Where APEGA's revenue comes from



Member and permit holder dues account for 78% of APEGA's revenue, supporting its initiatives in our province.




8% Application fees (exams and registrations)
5% Affinity programs
4% Investments
2% Program fees
3% General (e.g., stamps, grants, branch events)

Affinity programs offer exclusive benefits to members at a reduced rate, with APEGA earning a portion of the sale going back into the programs.
Thank you to APEGA volunteers!

VOLUNTEERS contribute significantly to the activities of APEGA, a total of 37,661 hours in 2021.